As Copper Loses Its Luster...Other Sectors Keep On Shining
Jorge Portilla fiddles with the tiny, copper-filled model wheelbarrow on the desk in his office at a Santiago department store. A little over a year ago, Portilla, 38, was working as a $3,000-a-month supplies coordinator for San Francisco-based Bechtel Group Inc.'s project to develop a mine site in northern Chile for state-owned mining company Codelco. But as the global price of copper slumped from 1997's $1.03 per pound average to 75 cents last year, Portilla and thousands of others were laid off. For five months, Portilla was unemployed, living off handouts from relatives. He finally landed his job as a security supervisor for the store, but it pays just $500 a month--one-sixth his previous salary. "I used to have enough money in the bank to renovate something in my house," says the portly Portilla. "Now, I can't save any money."
Meanwhile, in the northern city of Antofagasta, Cristian Monsalve, a manager for South Africa-based Boart Longyear Co., closed down the mining company's local contracting division in July. Back in 1997, the division had 186 people working on 16 rigs. But the price plunge has squeezed margins, and the division is moving its resources to Russia, the U.S., and Mexico. Because copper accounts for more than 80% of Chile's mining exports, "the price impact has been greater than in other countries with more diversity," Monsalve says.
Portilla and Monsalve are victims of the country's most serious economic downturn in two decades. Over the last 15 years, Chile's $80 billion economy has been the most vibrant and stable in Latin America, but as the world's leading copper producer, the nation is also tied inextricably to the price of the metal. Copper accounts for one-third of Chile's $15 billion annual exports. This year, copper has averaged 69 cents, sinking to 61 cents in March, the lowest in real terms since the Great Depression. And each cent represents $90 million on Chile's trade balance and $25 million in government revenues. Partly as a result, Chile's gross domestic product will be flat this year, compared with 7% average growth in the 1990s.
SMARTER. The slump has hit local producers and multinationals hard. In August, Codelco reached an accord to cut the wages of about 500 workers at El Teniente mine in central Chile. The company announced plans earlier this year to save about $250 million by reducing costs, selling off assets, and firing 1,000 employees. Nevertheless, Codelco's earnings dropped by 49%, to $122 million, in the first semester of 1999.
Cost-cutting has allowed some mines to improve results. At Escondida, the world's largest copper mine, near Antofagasta, the owners, led by BHP of Australia, have cut the workforce by 1,500. But they have also invested $8 million to establish a trade school to offer special training for workers, helping boost output through August by 9.1% over the same period last year. "It's a matter of doing it smarter with less people," says Escondida President Kenneth Pickering.
To be sure, copper's woes aren't a total catastrophe for Chile. In 1997, the government set up a so-called copper stabilization fund to plug gaps in the budget when the price falls below projections. Through July, the government had taken $200 million out of the $1.6 billion fund. And some good news arrived in early September, when the price rose to 79 cents, the highest in 15 months. But the long-term outlook is cloudy. Most analysts think the global surplus will last until 2001, so Chile may have a long slog ahead.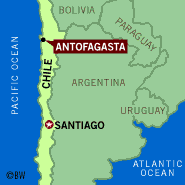 The one bright spot is that the impact of copper on Chile isn't nearly as severe as it once was. In 1970, copper accounted for 90% of export revenues. But output has diversified in the past two decades, particularly into wood pulp, fish meal, and wine. "We are much less sensitive than before, when a very minor movement in the price could affect us," says Valentin Carril, chief economist at Santander Investment in Santiago.
Today, companies such as drugmaker Laboratorios Chile and telecom operator BellSouth thrive even as the mines struggle. In fact, Chile is becoming less dependent on trade overall. Exports account for just 27% of GDP, compared with 35% in 1990. If that trend continues, Chile might someday view a downturn in copper as the loss of nothing more than a few pennies.
Before it's here, it's on the Bloomberg Terminal.
LEARN MORE