The Tokyo Exchange: Time For This Behemoth To Evolve?
The Tokyo Stock Exchange must fight new, tech-savvy bourses
Koichi Suzuki is the kind of entrepreneur who makes Tokyo Stock Exchange officials lose sleep. He spent seven years building a high-flying Web service provider, Internet Initiative Japan Inc. (IIJ). But when he needed cash for high-speed communication lines to take on mighty Nippon Telegraph & Telephone Corp., he decided to list his company in August on Nasdaq--which he regards as the big time. "I respect information-technology companies like Cisco Systems and Ciena," says Suzuki. "I'd like to be in the same market with such companies."
It's another example of how the tables are turning on the financial mandarins who have long micromanaged Japan Inc. For years, Japanese companies that wanted to go public followed the same, carefully choreographed rite of passage. Almost every venture had to prove its worth in the bush leagues, first on one of the country's eight local bourses, the over-the-counter market, or on the TSE's second section, a trading board for second-tier corporations. If the company met rigid criteria for performance, it eventually joined the blue chips on the TSE's first section. Ventures were willing to wait as long as 20 years to make it to the first section.
Very orderly, very Japanese--and very stifling. The system probably starved many worthy companies of needed capital. But now the pressures of recession and deregulation are taking their toll on this arcane convoy of stock exchanges. Local bourses in Hiroshima and Niigata say they will close next year. Worse, American exchanges are encroaching on TSE territory. The New York Stock Exchange is recruiting such Japanese blue chips as Toyota Motor Corp., now listed only on the TSE. And SoftBank Corp. President Masayoshi Son is teaming up with Washington's Nasdaq to lure hot startups to a new board, dubbed Nasdaq-Japan, by 2001.
The institution that has the most to lose from these tectonic shifts is the TSE. At first look, that might be hard to believe: After all, the Nikkei index of TSE-traded blue chips has been on a roll this year. But trading volume on the TSE is far lower than a decade ago: Many of the listed companies, mired in losses and stuck in dead-end industries, are barely trading at all. The TSE ran up a $1.5 million loss on $345 million in revenues in the fiscal year ended in March--its first deficit in five years. If Japan's best high-tech startups decide to skip the bourse, "the importance of the TSE will deteriorate," says Akio Makabe, research general manager at Dai-Ichi Kangyo Research Institute.
RESPONSIVE. So the TSE is starting to act. It's planning its own market for fast-growing startups this November. It will waive a requirement that applicants post earnings for at least three years, which once prevented startups from quickly listing. It also will open a section to accept even loss-making companies. But companies must file quarterly reports, compared with twice a year now. TSE officials insist the bourse will now be more responsive to companies such as IIJ. "Today, these types of companies are going to the U.S. only because a similar market is not available to them here," says Masamichi Yoshida, a TSE manager who screens new issues.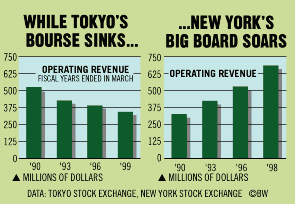 Yet Nasdaq, with the help of Son, may still do an end run around the Tokyo exchange. "Because of Nasdaq-Japan, we young entrepreneurs can go public in three to five years and attain the American dream," says 32-year-old Junichi Izumi, who resigned in December as an executive at Hakuhodo Inc., a prestigious advertising firm, to launch an interactive marketing agency. A recent Japanese newspaper poll showed that 40% of companies planning to go public hope to list on Nasdaq-Japan. The TSE has to compete against that kind of popularity. And competition is not something it's used to.
Before it's here, it's on the Bloomberg Terminal.
LEARN MORE