The Man Who Brought Nature To The City
A CLEARING IN THE DISTANCE
Frederick Law Olmsted and America in the Nineteenth Century
By Witold Rybczynski
Scribner 480pp $28
He has been dead for nearly a century. But the continuing restoration of two of Frederick Law Olmsted's most famous creations--Central Park and Prospect Park, both in New York--makes the pioneering landscape architect a surprisingly au courant subject for biography. In A Clearing in the Distance, author Witold Rybczynski, a professor of urbanism at the University of Pennsylvania, has written a general-interest work that is unfailingly lucid and engaging--if intermittently superficial.
Rybczynski's unassuming book carries a broad subtitle that would have been better suited to a biography of Andrew Jackson or Abraham Lincoln. But if Olmsted's story hardly encompasses that of 19th century America, his was a quintessentially American life. Writing in the 1930s, the critic Lewis Mumford lumped Olmsted (1822-1903) with Herman Melville and Walt Whitman as examples of a classic mid-19th-century type: "the self-invented man." Rybczynski adds Mark Twain and Thomas Alva Edison to Mumford's list, observing that what these notables all had in common was that "the originality of their ideas was due in no small part to the unconventional course of their early lives."
Olmsted was largely self-taught, and he meandered through a series of aborted careers before discovering his true calling. But he was atypical among the self-invented in that his restlessness was not rooted in poverty. The son of a prosperous Hartford dry-goods merchant, Olmsted worked as a surveyor's assistant, spent a year as an apprentice seaman on a voyage to China, and devoted seven years of his life to farming. He first gained national renown as a journalist who astutely chronicled the antebellum South's slave economy for The New York Times. He was 35 years old in 1857 when he used his budding celebrity to win a position for which he had no bona fide qualifications but, as it turned out, great aptitude: chief architect of what would become Central Park.
In designing Central Park, Olmsted deferred to his more experienced collaborator, Calvert Vaux. But while Vaux had no interest in the implementation of the park's design, Olmsted shouldered the weighty political and financial difficulties of getting Central Park built. That Olmsted was equally compelled to build parks as to design them is critical to an understanding of his genius. He disdained the notion of art for art's sake and devoted himself to pragmatic aims. He believed passionately that exposure to nature was health-giving and should not be limited to owners of private estates. In Rybczynski's estimation, Olmsted understood better than Vaux or any of his other Central Park artistic collaborators "that their common goal was neither technical nor aesthetic. It was, above all, civic and social."
Following a prolific 14-year partnership with Vaux, Olmsted went on to build a thriving practice of his own. His completed works include the U.S. Capitol grounds; the Vanderbilts' Biltmore estate in Asheville, N.C.; Montreal's Mount Royal Park; and the campus of Stanford University. Rybczynski considers it a strength of Olmsted's that he never developed a signature style. Instead, his designs tend to emerge organically from the sites themselves and maintain an enduring appeal.
Despite his practicality, Olmsted was a visionary and innovator who ventured far beyond the realm of landscape architecture into large-scale urban planning. He developed the plan for Riverside, Ill., a 1,600-acre suburb of Chicago, as well as a parkway that connected it to the city. In effect, he altered Buffalo's original master plan, expanding existing green areas into a citywide park system that demonstrated a "degree of sophistication in city planning previously unknown in the United States.... In Buffalo, Olmsted showed how the burgeoning American industrial city could be made livable."
The author makes a number of other grand claims for his subject, but he offers little in the way of supporting evidence. This deficiency highlights the book's main weakness: The reader learns a great deal about the particulars of Olmsted's eventful life but not nearly enough about where he fits into the overall history of landscape design and urban planning.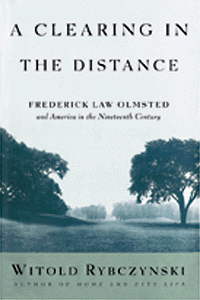 Rybczynski also skips a bit too lightly over the melancholy aspects of Olmsted's story. Some of his most ambitious designs--for example, those for Tacoma, Wash., and Bronx, N.Y.--were stillborn on his drawing board. And many of those that were built--notably, Stanford University--were altered beyond recognition in the process. "I have done a good deal of good work in my way," Olmsted lamented in the prime of his career, "but it is constantly and everywhere arrested, wrecked, mangled and misused."
Indeed, Olmsted suffered throughout most of his adulthood from debilitating bouts of depression of increasing severity. He spent the final eight years of his life incapacitated by what Rybczynski suspects was dementia. While A Clearing in the Distance is admirably free of melodrama, the author could have made more dramatic use of the suffering of this underappreciated genius, who spent his final days at a sanitarium, the grounds of which he had designed but no longer recognized as his own handiwork.
Before it's here, it's on the Bloomberg Terminal.
LEARN MORE