How Airbus Could Rule The Skies
A revamped consortium poses a serious threat to Boeing
It could be Boeing Co.'s worst nightmare. Hordes of visitors to the Paris Air Show of 2005 watch the takeoff of a new Airbus superjumbo, the world's biggest commercial jet. Amid fanfare over the plane, swelling orders, and rising profits, Airbus executives drop a bombshell: Lockheed Martin Corp. and Mitsubishi Heavy Industries Ltd. will strengthen longterm ties to Airbus, become equity partners in a European aerospace company, and collaborate on both commercial and military projects.
That vision may well come to pass in the next few years. While Boeing execs have long dismissed Airbus as a clumsy consortium propped by state subsidies, their European rival has become a strapping adversary. For sure, the Seattle-based giant on July 15 reported a 172% surge in second-quarter profits. But in the first half of 1999, Airbus' orders rose to 66% of the global market. And Airbus is on the eve of a radical restructuring that could turbocharge competitiveness. Boeing may have turned around. But the race with Airbus is growing fiercer.
For Airbus to build on its gains, it must shed its status as a marketing group to become a real corporation. That's likely to occur next year. The catalyst will be a series of defense industry deals involving Airbus partners Aerospatiale Matra, DaimlerChrysler Aerospace (DASA), and British Aerospace. The goal: Turn Airbus into a publicly traded company that's part of a giant European defense and aerospace group--with the fiscal clout, management focus, and manufacturing mass to match Boeing. Says DASA CEO Manfred Bischoff: "The earlier the better."
TOP GROUP. Indeed, the momentum for an Airbus makeover is stronger than ever. The effective privatization in June of France's state-owned Aerospatiale through a merger with Matra High Technologies has cleared away a key stumbling block. Aerospatiale had long resisted turning the group into a real corporation, but the CEO of the new Aerospatiale Matra, Philippe Camus, strongly backs it. "Airbus will be the core of a large aerospace group with activities in defense--one of two or three major groups in Europe," he says.
Airbus partners are now racing to make acquisitions and improve their leverage before launching the final talks over an Airbus corporation. On June 11, DASA acquired CASA, Airbus' state-owned Spanish partner, through a share swap. That gives Germany the largest stake in Airbus--42.1% vs. Aerospatiale Matra's 37.9%. Ultimately, aerospace sources say, the remade Airbus is also likely to have a German-French core. Some insiders speculate British Aerospace may sell its 20% stake to one of the other partners and simply continue to produce wings for Airbus. For now, though, BAe CEO John Weston says "it's unlikely someone would put enough money on the table for us to sell."
LOCKHEED? One thing is clear about Airbus' future: The company is sure to seek American partners. Already, Lockheed Martin executives at the Paris Air Show in June said that the company would be interested in one day becoming a fifth Airbus partner. "We would welcome an American partner in Airbus," says DASA's Bischoff. In mid-June, Lockheed Martin announced agreements with Aerospatiale Matra to team up on bids for a strategic tanker plane based on an Airbus model and for collaboration with the new Korean Aircraft Industries, a major Asian player. Executives at both Aerospatiale Matra and Lockheed Martin execs say the agreements could be the first steps toward a relationship in which Lockheed Martin might take an equity stake in a new Airbus.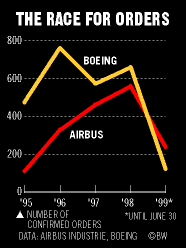 For Airbus, the driving force behind its makeover is its rivalry with Boeing. Airbus must keep pace with Boeing's productivity gains, as well as finance $12 billion in R&D for its superjumbo, dubbed the A3XX. Investors will be loath to participate unless Airbus' financial accounts are transparent. That's why Noel Forgeard, named to manage a restructured Airbus, hopes the new corporation will be created next year. "Boeing is a formidable competitor, and they will recover. We cannot afford not to be streamlined when they are back in good shape," says Forgeard, now president of Airbus Industrie, the marketing organization for the consortium. He's eager to shake up everything from purchasing to manufacturing.
As a new era of commercial jet competition dawns in the 21st century, it's no longer an upstart Airbus against a Goliath Boeing. As a real corporation rather than unwieldy consortium, Airbus would have an even greater chance of making a bid for market leadership. That should cause a few sleepless nights in Seattle.
Before it's here, it's on the Bloomberg Terminal.
LEARN MORE