Canada: A Gleam Of Northern Light
The outlook for the Canadian economy has brightened, but the inflation picture looks a bit dimmer. At the end of 1998, global financial turmoil had threatened to push commodity prices even lower, further hammering Canada's resource industries. Meanwhile, growth prospects were ebbing in the U.S., the destination of 85% of Canada's exports.
Now, thanks to unflagging U.S. growth, a better global outlook, firming commodity prices, and five cuts in interest rates since fall, 1999 growth is expected to match--or exceed--last year's 3.1% pace. Canada's real gross domestic product rose at a 4.2% annual rate in the first quarter, after a 4.8% spurt in the previous quarter, and the second quarter is off to a solid start.
Some of the rapid pace is simply a rebound from weakness in mid-1998, when growth slipped to only 1.8%, especially after the end of the strike at General Motors Corp. But April's surprisingly strong GDP growth suggests little, if any, slowdown in the second quarter.
The primary growth engine will be exports. Reflecting strong overseas sales and tepid home demand for imports, the May trade balance was in surplus to the tune of C$2.44 billion (U.S. $1.64 billion). The outlook for domestic demand is more iffy. Labor markets still show slack, and household income growth is lagging behind the pace of spending. Nevertheless, strong auto sales and housing starts in June suggest continued vigor in big-ticket purchases.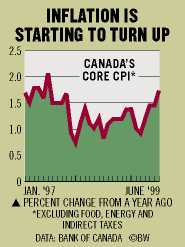 Given the economy's firmer tone, analysts are revisiting the inflation outlook. Core inflation, excluding energy, food, and some taxes, rose to 1.7% in May, up from less than 1% earlier this year (chart). Wage growth in collective bargaining agreements accelerated to 2.3% in April and May, up from 1.5% in the first quarter. And more recently, Air Canada's flight attendants won a 5% first-year wage hike as part of a 12% three-year settlement. These patterns put pressure on the Bank of Canada to match any further rate hikes by the Federal Reserve in order to buoy the Canadian dollar.
Before it's here, it's on the Bloomberg Terminal.
LEARN MORE