Mexico's Spicy Market Isn't Overheating Yet
Good economic news is buoying the Mexican Bolsa
With debts to pay and ambitious plans to expand, Salvador Gutierrez Beltran has spent two years waiting to list his company on the Mexican Bolsa. But with the market in the doldrums, Gutierrez saw no appetite for his regional chain of hypermarkets. Now the wait is over, it seems. As finance director of Grupo Comercial Chedraui, Gutierrez is looking for the right moment to launch a $70 million initial public offering. "We've been trying to do this for a long time," Gutierrez says from his headquarters in Jalapa. "We're finally seeing the financial situation change."
That's putting it mildly. Mexico's stock market, ebullient for three months now, is among the world's top performers this year. The Bolsa Index is up 36% so far in 1999--45% in dollar terms. First-quarter earnings are surpassing forecasts, and new money is trickling into Latin funds. And on Apr. 21, the Bolsa celebrated its first IPO in 16 months, when Grupo Sanborns, a big retailing group, floated $270 million in stock. Including Chedraui, 17 companies are now waiting to go public. "The risk has lowered for the region," says Jorge D. Mariscal, chief Latin America investment strategist at Goldman, Sachs & Co. in New York, "and Mexico is the chief beneficiary."
BUYING OPPORTUNITIES. Mariscal is one of many analysts who are expecting Mexico's good times to last awhile. With oil prices up, the peso on a rebound, and inflation below 1% a month, analysts say that Mexico could grow by almost 3% this year. Markets in Argentina and Brazil have also climbed sharply in '99. But while those two countries face recession, Mexico's fortunes are increasingly tied to the booming U.S. economy and Wall Street's bull run.
Despite the spike in prices, Mexican stocks still look cheap. Many are recovering from the Bolsa's drop last year--39% in dollar terms. The overall market is still about 15% below its 1997 peak, and its forecast price-to-earnings ratio for 1999 is 17--low by U.S. standards. "The Bolsa has gone from deeply, deeply undervalued to still undervalued," says Carlos Fritsch, research chief at Interacciones Casa de Bolsa. Fritsch thinks the index could end the year at 6875, a year-to-year gain of 74%. Corrections are likely, Fritsch says, but he sees them as buying opportunities.
There are a couple of hitches. Most analysts expect the peso, up almost 7% against the dollar so far in 1999, to weaken as the trade deficit widens and the central bank eases rates. With presidential elections due next year, the political equation is also a concern. Politically motivated policies have led to end-of-term currency devaluations and recessions since 1976. President Ernesto Zedillo is determined to break the pattern--and he might. But local investors are unlikely to feel any less jittery as the political season approaches.
"PRICED IN." Some analysts think the ride is almost over in any case. "Most of the good news is priced in," says Lars Schonander, head of research for Santander Investment in Mexico City. Schonander thinks the Bolsa will go only 5 to 10 percentage points further this year. But even he agrees that there are still good bets--straight-ahead plays on companies set to benefit from Mexico's economic growth.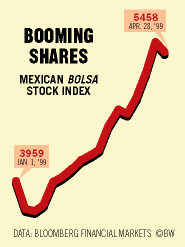 Cement companies, now reporting record profits, are still attractive. Cemex, the world's No. 3 producer, is up 110% in dollars. That puts it among the market's top performers--and it is still trading below its typical p-e multiple. Mariscal likes Mexico's low-income housing developers, especially Corporacion GEO, which is up 50% this year in dollar terms. He also favors steelmaker Hylsamex. It is rebounding on rising prices and demand.
Media giant Televisa is also on many lists. The story here is simple: Domestic consumption will boost advertising spending while the company cuts costs. Fritsch likes Corporacion Interamericana de Entretenimiento, CIE, a theater and concert promoter.
Analysts are also bullish on retailers--another reason Finance Director Gutierrez is eager to launch Chedraui's IPO. Indeed, if the Bolsa stays strong, a new tier of midsize companies will finally be able to invest and grow. They've waited long enough--and so has Mexico.
Before it's here, it's on the Bloomberg Terminal.
LEARN MORE