Why Mci World Com Wants Nextel
It would be pricey, but going without wireless could cost more
Bernard J. Ebbers, chief executive of MCI WorldCom Inc., has long argued that he doesn't need to sell wireless service. Why? The corporate customers he caters to buy a host of communications services--including local, long distance, and data--from him. But when it comes to wireless, he said, they let employees buy their own. Besides, cellular properties are expensive, and an acquisition would likely hurt MCI WorldCom's share price. So, when asked at a March investment conference to describe MCI WorldCom's wireless strategy, Ebbers answered: "We don't have one."
Now, in April, it's clear he's scrambling to get one. Ebbers and Vice-Chairman John W. Sidgmore have held preliminary talks to acquire Nextel Communications Inc., according to sources close to Nextel. The deal would give MCI WorldCom 3 million subscribers, a national wireless network, and operations in six international markets.
And it would help Ebbers plug a gap that is becoming increasingly dangerous. Not only is wireless the fastest-growing form of voice phone service, it is also becoming important for competition in the business markets MCI WorldCom targets. Later this year, AT&T is planning to introduce a new bundle of services for corporate customers designed specifically to take advantage of MCI WorldCom's weakness in wireless. Under that plan, a business that buys long distance from AT&T for, say, 10 cents a minute would be able to offer its employees the same rate on wireless phones--without paying any extra roaming charges. "Our business customers want wireless," says Michael Keith, the newly appointed head of AT&T's corporate unit. "They're asking about it every day."
Businesses already account for 47% of wireless revenues in the U.S., says market researcher Dataquest Inc. That share could increase if AT&T and others can market bundles of services to them effectively. "If there was a package deal and we saved money, we would go to them immediately," says Sanford Rich, a senior vice-president at money manager GEM Capital Management Inc.
Beyond risking erosion in the business market, WorldCom could crimp its growth prospects if it sits out the wireless boom. The number of U.S. wireless customers has risen 25% in the past year, to 69 million, according to the Cellular Telecommunications Industry Assn. By 2003, wireless will account for 15% of total communications minutes in the U.S., up from 3% today, Dataquest estimates. Says Andrew Cole, head of the wireless practice at consultant Renaissance Worldwide Inc.: "To play in the telecom world, you have to have a wireless business."
That's what has inspired the talks between MCI WorldCom and Nextel. "It's a good marriage," says Dataquest analyst Matt Hoffman. But not a cheap one. Nextel would sell for a premium over its market value of $11 billion, and MCI WorldCom would have to assume debt of nearly $8 billion--all for a company that lost $1.8 billion in 1998. A Nextel deal would likely chop MCI WorldCom earnings by as much as 25%, or $1.3 billion, in 2000, says Merrill Lynch & Co. analyst Daniel Reingold. MCI WorldCom declined to comment, but an insider says the company would only buy Nextel if it could limit dilution to 10% or less.
VULNERABLE SYSTEM. In addition, Nextel relies on unusual technology modeled after a radio-dispatch system. As a result, Nextel depends solely on Motorola for equipment instead of using several suppliers, as other wireless carriers do. That gives Nextel little leverage to get cutting-edge phones.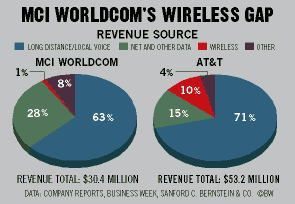 Nevertheless, Nextel may be the best choice for Ebbers. Other options include buying three or four small companies that use the Global System for Mobile Communications wireless format that is favored in Europe. But dealing with several sellers would be complicated, and it still wouldn't give Ebbers national coverage. Analysts also speculate that Ebbers could try to buy Sprint Corp. for its Sprint PCS. But regulators likely would block a combination of the second- and third-largest long-distance players.
Some Wall Street analysts believe the Nextel rumor may have been leaked as a trial to see how MCI WorldCom's shareholders would react. The feedback was not encouraging: On Apr. 6 and 7, the stock fell $6.50, to $86 a share. Meanwhile, competitors hope Ebbers will stay out of wireless. "Tell Bernie not to change a thing he's doing," says AT&T's Keith. Don't bet on it.
Before it's here, it's on the Bloomberg Terminal.
LEARN MORE