Norway: Oil May Lubricate A Slowdown
The boost in petroleum prices, generated by the agreement among OPEC and four non-member nations, comes at a good time for Norway, the world's No. 2 oil exporter and a non-OPEC member of the pact. Its economy faces sharply slower growth this year and next, after six years of strong growth. And higher oil prices give Norges Bank, Norway's central bank, added leeway to cut interest rates.
Prior to 1999, Norges Bank's focus was on the krone's stability, which sometimes resulted in sharp policy swings that adversely affected the economy. Last year, when the price of Brent crude fell to a 12-year low of less than $10 a barrel, the krone weakened, forcing the central bank to hike its policy rate from 3.5% to 8% in defense of the currency.
Now, Norges Bank appears to have shifted its policy focus away from stabilizing the krone to stabilizing the economy. Already this year it has cut policy rates twice, to 7%, even though the krone had fallen below the central bank's target band. With Brent crude now selling at more than $14, the krone has strengthened more than 4% vs. the euro this year. More rate cuts, perhaps totaling a full percentage point, are expected.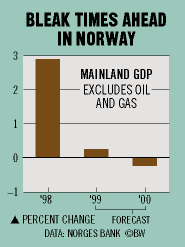 More cuts are needed because the past rate hikes, tight fiscal policy, and weak global demand are pummeling the economy. In its quarterly inflation report, Norges Bank forecasts economic growth of 0.75% this year, down from 2% in 1998. Moreover, it expects mainland gross domestic product, which excludes oil, to slow from 2.9% to about zero this year and next (chart). Already, consumer confidence is down to recession levels, and domestic demand fell in the fourth quarter after years of growth.
The biggest hit to GDP growth will come in business investment as companies cut back spending on oil exploration and development. Even beyond oil, past hikes in wage costs and weak pricing generally have cut company earnings. Housing and business construction have yet to feel the full ill effects of last year's rate hikes.
Before it's here, it's on the Bloomberg Terminal.
LEARN MORE