Cna May Command Quite A Premium
Property and casualty insurer CNA Financial (CNA) and its parent, Loews (LTR), which owns 85% of CNA, have been sorry losers in this long bull market. CNA hit a low of 33 in February, before edging up to 38 13/16 on Mar 31. It's down from its 52-week high of 53. And Loews, at 74, is way off its high of 107. But hold on: It's not the time to give up on either--if whispers about a Loews restructuring are on the money.
Loews is pre-paring to sell off its controlling interest in CNA, say some investment-banking sources, and may use the proceeds to repurchase 20% to 25% of its own shares, for more than Loews's current stock price.
Rumors say that one buyer being courted by Loews Chairman Laurence Tisch is Berkshire Hathaway, Warren Buffett's holding company. Berkshire is already in the business through its car insurer GEICO and reinsurer General Re.
In a buyout, CNA is estimated to be worth 60, which would value the company at $11 billion, according to a strategist at one investment bank, who argues that it would make sense for Berkshire to acquire CNA, the nation's No. 3 property and casualty insurer.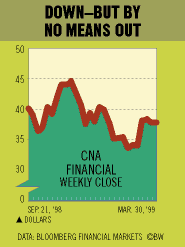 CNA's 1998 revenues totaled $17.1 billion, and assets were $62.3 billion. CNA posted a fourth-quarter loss of $1.34 a share, or $246 million, excluding charges and gains on security sales, compared with a profit of 55 cents, or $105 million, in 1997's fourth quarter. "A deteriorating market, losses from catastrophes, and sizable additions to reserves have led to a near-evaporation of operating earnings," notes Jay Cohen of Merrill Lynch. But he figures CNA could still earn $1.50 a share for all of 1999 and $2 in 2000.
There is also conjecture that Loews may sell other assets, including its Lorillard unit, the No. 4 U.S. tobacco producer, and its 53% stake in Diamond Drilling, which owns offshore rigs. Loews, which owns 14 hotels in the U.S., Canada, and Monaco, also controls watchmaker Bulova. Loews's co-President Jim Tisch says he doesn't comment on "blind rumors."
Before it's here, it's on the Bloomberg Terminal.
LEARN MORE