Has Ubs Found Its Way Out Of The Woods?
The Swiss giant needs to fix its investment bank--or sell it
If Union Bank of Switzerland executives felt cocky about merging with Swiss Bank Corp. last June to create the world's biggest bank, what followed was enough to puncture any corporate ego. Its investment-banking unit, Warburg Dillon Read, lost more than $1 billion from derivatives trading and a risky stake in troubled U.S. hedge fund Long-Term Capital Management. The disclosure led to a profit warning and forced the resignation of Chairman Mathis Cabiallavetta. On top of it all, under international pressure, UBS had to pony up some $610 million to compensate Holocaust survivors and their heirs for assets the bank had hidden.
No one expects 1999 to be equally disaster-ridden. Many analysts predict UBS will as much as double its 1998 earnings this year, as world stock markets recover and Warburg puts last year's fiascoes behind it. The stock price reflects this optimism: At $335 on Mar. 17, UBS shares were 44% above their October trough. But long-term, shareholders want to see solid gains in UBS's strategy of melding a powerhouse investment bank with more traditional banking. Otherwise, the optimism could fade fast.
That's why this year holds a huge challenge for CEO Marcel Ospel. Warburg must turn itself around and compete with aggressive U.S. rivals that are snatching lucrative slices of the Continental market. If Warburg can't fend them off, Ospel may be forced to ditch the investment bank and keep his bank focused on more dependable businesses.
Since monetary union has knit 11 European financial markets into a single bloc of capital, many banks have considered sheer size to be a potent weapon. That concept has powered the merger boom in the Continent's finance industry. UBS also figures it has a home advantage in this new euro market, which will rival the U.S. in size. But expertise, not critical mass, may be more important. The U.S. banks' advantage is their ability to tap mature capital markets back home, where they can place billions of dollars' worth of new European debt and equity. Matching that placement power is the real battle for the Europeans.
That's why Warburg is key to UBS's performance. Despite last year's debacles, Warburg ranks among the world's top investment banks. It advised Ford Motor Co. in its $6.5 billion takeover of Volvo's passenger-car division in January. But in European mergers and acquisitions, it has slipped to No. 15 from sixth place last year. And it still lacks strength in the U.S., the world's biggest capital market.
The trouble is, UBS may not be in a position to buy better access to the U.S., as Germany's Deutsche Bank is doing by acquiring Bankers Trust. The risk would be too high. "Can [Ospel] really go to shareholders and argue that he wants to take $10 billion or more out of profitable operations like asset management or private banking and pour it into a volatile investment bank?" asks Credit Suisse First Boston analyst Mark Hoge.
HUGE LOSS. If he can't justify buying U.S. market share, Ospel might instead decide to sell off Warburg and concentrate on private banking, UBS's most profitable division. The bank rejects such speculation, but investors might welcome the move. Private banking is a growth market, as wealthy Europeans increasingly take their money out of interest-bearing accounts and invest more actively. And private banking may be one area where UBS, with its history of Swiss discretion, has an edge over U.S. rivals.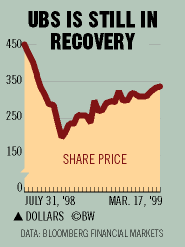 The bottom line tells the story best. Warburg's investment errors led to a $700 million pretax loss that dragged UBS's profits down to $2.1 billion last year, short of expectations. By contrast, UBS's pretax profits from private banking in 1998 were up 37%, to almost $3 billion, from the year before. In fact, the division's success prompted UBS to buy Bank of America's non-U.S. private banking operations this month. UBS has also opened a private banking unit in Spain and plans another in France. The burden on Warburg is to prove that glamorous investment banking can match these solid returns. If not, UBS's grand strategy will look a lot less grand.
Before it's here, it's on the Bloomberg Terminal.
LEARN MORE