News and advice from our Small Business Web site, enterprise.businessweek.com
DUBIOUS TOOLS
Control freaks will love this: "snoopware" that lets you see what employees are doing right now on your network--that big project you assigned or surfing cybersmut. Several companies have products aimed at small business, including RuleSpace Inc. in Portland, Ore., and NDG Software Inc. in San Diego, Calif. But just because you can snoop doesn't mean you should: Experts say the lack of trust implied by snoopware can become a serious morale problem, and any good small-company CEO knows what everyone's up to anyway. If you do decide to monitor, tell employees how and why, in writing.
"PRETTY FAST FOR CONGRESS..."
So said one insider after the Senate approved, on Mar. 2, a bill to give small businesses emergency Y2K loans through the SBA's 7(a) program. But it may not be fast enough to help small biz before New Year's. A similar bill is expected to sail through the House, but the vote may not be until mid-April. Then the SBA must set up loan procedures and guidelines. After that comes the application process. Time waits for no pol--or entrepreneur.
GETTING RICH QUICK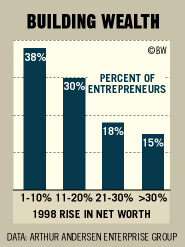 For entrepreneurs, balancing portfolio risk is often a problem because they've got all their eggs in one basket--the business. But in this economy, it doesn't seem to matter. A survey by Arthur Andersen Enterprise Group found all business owners got richer in 1998. More than half (51%) said the main source of their new wealth was appreciating personal assets. For 42%, it was the growth of their own businesses.
Of course, the economy can't stay this good forever. And some may not be properly diversified to ride out a downturn; financial planners say business owners love to buy growth stocks that are as risky as their own companies. For balance, their investments should lean to index funds, bonds, and blue chips.
For the full stories, click Online Extras at enterp
Before it's here, it's on the Bloomberg Terminal.
LEARN MORE