Aspen Without The Skis
Summer brings a bounty of low-cost family fun
Most people think of Aspen, Colo., as a winter playground for the rich and famous. Many are surprised to discover it's also a summer haven for family vacationers. In fact, "summer activities and visitor numbers rival those in winter," says Patti Hecht, spokeswoman for the Aspen Chamber Resort Assn. (970 925-1940). But you don't have to be a millionaire to enjoy yourself.
Many activities are free or inexpensive, and lodgings start at a reasonable $80 a night. And you couldn't ask for a more delightful climate. Daytime temperatures average in the mid-70s to low 80s. True, rainstorms do blow through many afternoons. But they leave as fast as they come.
I can attest to Aspen's allure. My family has been going there since I was a toddler, and now I bring my own children every summer (and winter) to visit their Grandpa Kenny, a year-round resident. Although five-month-old Cameron is about to make his first visit, two-year-old Lee is already an old Aspen hand.
The center of this old silver-mining town is now a brick-paved pedestrian mall of restaurants and shops. No day would be complete without a stop at the "dancing fountain" on Mill Street, near a large grassy field called Wagner Park, where jets of water shoot up unexpectedly at different intervals. Kids love to jump over the jets when they're dormant, trying (often unsuccessfully) to avoid getting soaked. They also like to watch geysers of water carry balloons high into the air.
If you can pull your children away from the fountain or the busy playground nearby, the mall also serves as a stage for jugglers, balloon artists, and musicians, many from the well-known Aspen Music Festival that runs every June through August (970 925-3254; www.aspen.com/amf). Celebrating its 50th year this summer, it features classical performances, both indoors and alfresco. Tickets range from free to $38.
HIKING AND BIKING. Of course, Aspen is known for its mountains. To get your family to the top in a hurry, take a ride on the Silver Queen Gondola, a five-minute walk from the fountain. It gets you to the 11,212-foot summit of Aspen Mountain in just 18 minutes. If you favor a more leisurely approach, visit the Maroon Bells. Their three majestic peaks tower over a mirrorlike lake and make a popular destination for adults and children alike. The road to the Bells is closed to private cars during summer days, but you can get there from town by catching a bus that takes you on a 20-minute scenic ride to the Maroon Lake trailhead. Lakeside is a perfect place to eat a picnic lunch. Then you can head off on any of several trails. Lee's little legs couldn't possibly keep up with ours, so he rode on my husband Neil's back in a kiddie pack we rented.
Families with older children can enjoy more strenuous hikes that start in town. The two-mile Ute trail features a series of switchbacks to a scenic lookout, while the six-mile Hunter Creek trail follows the boulder-studded creek to an alpine meadow. Up Castle Creek Road, 10 miles from Aspen, is the more rigorous six-mile Cathedral Lake trail.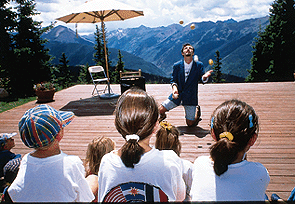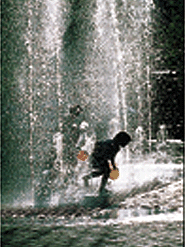 For bikers, trail-a-bikes and burleys (small bikes or buggies that attach to the back of your bike) make it possible to bring along a child of any age. Last summer, we packed Lee in a burley and left from the Aspen Post Office for a 10-mile roundtrip ride to Woody Creek via the Rio Grande Trail along the Roaring Fork River. An hour later, we were eating lunch on the patio of the Woody Creek Tavern.
Even when it rains, you can find things to do with the kids. The Aspen Center for Environmental Studies (970 925-5756) has a wildlife museum and nature talks for a small fee, and the Pitkin County Library (970 925-4025) offers free storytelling and musical performances.
The only problem we have when we visit Aspen is that we don't have time to do everything we want to do. The good news is that I always know we're coming back.
Before it's here, it's on the Bloomberg Terminal.
LEARN MORE