This Armsmaker Is "A Sitting Duck"
Shares of defense contractor United Industrial (UIC) have been lethargic at best, despite the bull market--in part because of lack of support on Wall Street for small-cap stocks. But that may change before long. A designer and maker of automatic test equipment for electronic defense systems, United "could be a takeover target in the rapidly consolidating defense industry," says Mike Kicera, president of MRK Capital Management in Rochester, N.Y.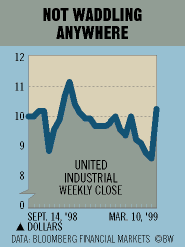 He thinks that Northrop Grumman, a maker of fighter planes and radar equipment, is eyeballing the company. "United is a sitting duck," says Kicera. Northrop was itself slated to be acquired last year by Lockheed Martin. But the deal was blocked by the Justice Dept. In the past, Kicer-a has accurately identified targets in consolidating industries--such as Genovese Drug Stores and Fay's, another drug chain, before J.C. Penney acquired them.
Kicera believes Northrop will resume its acquisition of small defense players. United stock trades at only nine times earnings and is close to its book value of $8.45 a share, with a cash hoard of $3 a share. Value Line says United will earn 80 cents a share this year, compared with 82 cents in 1998.
Kicera figures the stock's takeover value is 25 a share. Northrop spokesman Jim Taft says that the company doesn't comment on its M&A plans. United didn't comment.
Before it's here, it's on the Bloomberg Terminal.
LEARN MORE