Biotech Is Bustling In Berlin...As U.S. Companies Find Ready Money
The plush lawns, hedges, and shady trees look so much like a well-tended park that you half expect to see couples kissing on the benches. But wander inside one of the spanking new, environmentally friendly buildings on this 32-hectare patch of Berlin, and you'll find quite a different atmosphere. White-coated technicians hurry along corridors or stop to chat in English, German, or Chinese. Outside pristine labs, plaques on the doors bear such company names as Atugen, EMP Biotech, and HepaVec.
Welcome to the Max Delbruck Center for Molecular Medicine, a centerpiece of Germany's effort to research its way to the top in global biotech. That bid was born in 1996, when Germany lifted strict limits on biotech research. The results have been explosive. In 1998, Germany was the fastest-growing biotech region in the world, according to Ernst & Young, with the number of companies having risen by 300% since 1995. And foreign biotech concerns, frustrated by investor skittishness back home, are bringing their test tubes to Germany. "In terms of technology and investment support, it's better here than anywhere else," says Allen Harvey, managing director of Scotland's Drug Discovery Ltd., which is scouting sites in eastern Germany, including the Max Delbruck Center.
Named after a Berlin-born doctor whose experiments in the 1930s laid the ground for biotech, Delbruck was founded in 1991 by the city of Berlin, which has poured in about $300 million, with $530 million more budgeted over the next five years. The center is located across the street from two hospitals. The idea is that doctors can team up with scientists to test out lab breakthroughs and that companies can then turn the diagnostic tools and therapies into commercial products. The setup allows for "close, friction-free collaboration," says Detlev Ganten, head of the state-funded group that runs the center.
It doesn't hurt that monthly rents for fully fitted lab space are just $6 a square meter, compared with $12 to $14 along the Route 270 biotech corridor in Maryland. Even more important, both the local and federal governments offer fat rebates on capital investment and other incentives for research and development and training. Since additional federal money is doled out according to the number of new companies investing, cities such as Munich, Cologne, and Heidelberg are competing fiercely with Berlin for biotech startups. But Delbruck seems to be holding its own: So far, 28 companies have signed on, 10 of them in 1998, and 800 scientists are at work.
Some of Delbruck's denizens have already scored successes. For example, Invitek has evolved from a purely analytical company, measuring compounds for others, into the potentially more lucrative realm of drug development, thanks to input from doctors at the nearby hospitals. As more contagious ideas pass back and forth, Delbruck is helping build Germany into a biotech power.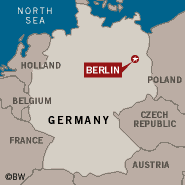 Among the U.S. companies heading for Europe to scoop up biotech funding is Ribozyme Pharmaceuticals Inc., which develops new drugs as well as animal health and agricultural products. Last June, the company bought Transgenics, a tiny Berlin company that studies links between genes and disease, and folded it into a new subsidiary at Delbruck, Atugen Biotechnology. The move catapulted Ribozyme into the forefront of research in live animals, whereas in the U.S., the company made its reputation in the test tube. "The deal is a win for both sides," says Gunter Rosskamp, vice-president for life sciences at the Industrial Investment Council, which works to bring foreign investors to eastern Germany. "Ribozyme was able to cherry-pick some top scientific talent, and Transgenics immediately raised its profile."
Thanks to prodigious amounts of funding from the government and a venture capital group, Atugen opened its doors with $20 million in the bank. That's hardly the profile of a biotech beginner these days in the U.S., where, says Rosskamp, "financing for small startups has vanished." Between Germany's ready cash and cutting-edge technology, how can U.S. biotech companies afford to stay at home?
Before it's here, it's on the Bloomberg Terminal.
LEARN MORE