Data Broadcasting Is Spinning A Web
Something is brewing at Data Broadcasting (DBCC), whose stock soared from 5 3/4 on Nov. 11 to 15 on Dec. 29. Is it Internet-related? Bet on it.
This stock, which had been lumbering along between 3 and 6 before heating up, is headed even higher, insist some pros who have made a bundle on Net issues. The reason, they say, is the prospect of a red-hot initial public offering--expected in late January--of MarketWatch.Com, a joint venture between Data Broadcasting and the broadcast arm of CBS. Data Broadcasting and CBS will each own 38% of MarketWatch.Com after the IPO.
The joint venture's Web site, called CBS MarketWatch.com, is designed to be a one-stop shop for all sorts of financial information. It currently provides breaking news, expert analyses, and market data. CBS will contribute $30 million worth of advertising time on its television and radio stations to promote the Web site. Data Broadcasting is a leading provider of real-time market data, financial and sports news, and gambling information to more than 2 million users--over PCs, FM radio, cable and satellite transmission, and the Internet.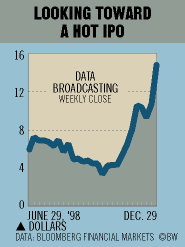 Although the IPO is expected to be priced at $10 to $12 a share, some pros believe the stock will blast off after the opening--just like other recent IPOs of Internet outfits that serve robust niche markets.
"They expect MarketWatch.Com will be another uBid, the Internet auctioneer whose stock soared some 700% since it went public on Dec. 4 at 15 a share," says one fund manager who has loaded up on Data Broadcasting. Now trading at about 140, uBid was also a spin-off that was later taken public by its parent, Creative Computers. Since uBid went public, the parent's stock has also rocketed--from 6 to 60. "Data Broadcasting shares are the way to play MarketWatch.Com before it goes public," says one New York investment banker.
Before it's here, it's on the Bloomberg Terminal.
LEARN MORE