Humming Along At Humdrum Terex
Terex (TEX) is no Internet stock, nor is it in a glamour business. It makes mobile cranes and gear for mining and handling materials--a highly cyclical industry. Despite its humdrum business, the stock has been hot: After hitting a 52-week low of 14 a share on Oct. 12, the stock snapped back to 27 1/2 by Nov. 23.
Stephen Volkmann of Morgan Stanley Dean Witter thinks Terex will keep on shining, as the market comes to appreciate Terex' "strong earnings visibility." Since 1993, sales have grown 31% a year--as Terex consolidated companies in its businesses, says Volkmann. His near-term tarGet for the stock is 35.
"I am very impressed with CEO Ron DeFeo's savvy," says Tobias Levkovich, an analyst at Salomon Smith Barney. DeFeo, he adds, "isn't finished building up and broadening a company that had been losing heavily before he came on board" in January, 1995.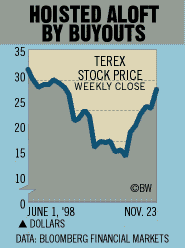 The stock was then trading at 5 1/2, and 1994 sales were $314 million. But last year, Terex posted sales of $842 million and is expected to hit $1.3 billion this year. DeFeo thinks revenues will reach $2.5 billion in 2002, through growth and further acquisitions.
Analysts have been playing catch-up since DeFeo took the helm. He has not only managed to beat estimates each year but has also has surprised them with lucrative acquisitions.
Levkovich raised 1999 earnings forecasts by 10 cents a share, to $4.35, after Terex bought two European tower-crane makers--with combined sales of $75 million--for $22 million. He expects $3.22 for 1998. With DeFeo's history of acquisition turnarounds, cost slashing, and underpricing rivals by 10% to 15%, the buys will crank up earnings fast, he says.
Before it's here, it's on the Bloomberg Terminal.
LEARN MORE