U.S.: The Fed May Keep Its Scalpel Sharpened
This credit squeeze is unlike any other, making more rate cuts likely
Now that the Federal Reserve has shocked U.S. and global markets with an unexpected cut in interest rates between its regular meetings, where does policy go from here?
Fed Chairman Alan Greenspan offered a few hints in a speech back on Oct. 7. He laid out with unusual clarity his concerns about the unique nature of the emerging credit squeeze. He spoke from only a few notes, and at one point said flatly, "I have never seen anything like this." In hindsight, that was a strong foreshadowing of the Fed's surprise quarter-point cuts in both the federal funds rate, to 5%, and the discount rate, to 4.75%, on Oct. 15, and more easing may well be on the way.
Greenspan appears to believe that the credit squeeze is the biggest threat to this 7 1/2-year expansion, especially since recent data on industrial production and foreign trade suggest that economic growth is winding down. The economy probably grew between 2% and 2 1/2% in the third quarter, as domestic demand slowed from its first-half gallop.
In its statement following the rate cut, the Fed said: "Growing caution by lenders and unsettled conditions in financial markets more generally are likely to be restraining aggregate demand in the future." In plain English: Lenders are pickier about granting loans, and investors are fleeing the markets for safer territory, leaving the economy without the financial grease to keep its wheels turning. That means the Fed is likely to keep on easing until the danger has passed.
HOW WILL WE KNOW when the pinch is letting up? For that one, you have to understand why Greenspan finds this credit squeeze so unique--and perhaps harder to deal with. Much has been written about the flight-to-quality aspect. Investors and lenders are demanding more reward for taking on more risk, as seen in the widening yield spreads between riskless Treasury bonds and riskier corporate bond issues.
But far more important, as Greenspan discussed at length on Oct. 7, this credit squeeze is also a flight to liquidity, caused by increased uncertainty (chart). Amid global turmoil and its fallout on U.S. markets, individuals are demanding a big premium--not only for added risk, but also for giving up the ability to free themselves from an investment as fast as possible.
Uncertainty is very different from risk. Using yield spreads between Treasury and corporate issues, risk is easy to measure. But increased uncertainty is intangible. It is more psychological, making it difficult for the Fed to combat. This uncertainty effect shows up in the sharply wider yield spread between a new 30-year Treasury bond and one that is only six months old. Both issues are riskless, but the newer one is increasingly in demand and carries a lower yield, because it is the more liquid, or easier to unload.
As Greenspan said, when people "do not understand the rules or the terms of a particular type of engagement they are having in the real world, they disengage." As a result of new global uncertainty, the flight to shorter-term, more-liquid assets is not just pushing up the cost of credit, it is causing some markets, especially the very risky high-yield segment, to stop functioning altogether.
THAT'S A POTENTIALLY DANGEROUS development for the real economy. Without financing, large sectors--from capital spending to housing--will sink. The good news: The Oct. 15 interest-rate cut, and any more that may follow, will be insurance against a more severe outcome.
For now, the expansion is simply slowing. Based on monthly data, the Commerce Dept.'s report on third-quarter gross domestic product, due on Oct. 30, is expected to show that the economy grew only a bit better than the 1.8% pace of the second quarter. Back in the spring, though, a severe widening in net exports and a slowdown in inventory accumulation sliced GDP growth. This time around, the trade deficit remains a big problem (chart), but domestic demand has slowed considerably from its 6.7% pace of the spring.
Consumer spending last quarter, for example, likely grew at about half its 6.1% pace in the second quarter. So far, job and income growth remain robust enough to keep household spending, and the economy, moving.
Sturdy consumer fundamentals also boosted residential construction last quarter. Housing starts slipped 2.5% in September to an annual rate of 1.58 million. But for the quarter, starts rose at a 17.6% annual rate, and the latest dip in mortgage rates will limit any housing slowdown. In fact, the National Association of Home Builders' Housing Market Index rose to a record high in October.
THE FED'S RATE CUT will bring some relief to capital-hungry businesses squeezed the most by higher risk and liquidity premiums. But the outlook for capital spending is dim. Third-quarter equipment investment likely grew in the single digits after surging 26% in the first half, and outlays for structures appear to have dropped for the third quarter in a row. Business spending will slow further, weighed down by costlier credit, weak profits, and sagging foreign demand.
The collapse in foreign markets is a big reason foreign trade continued to deteriorate last quarter. The trade deficit in August ballooned to a record $16.8 billion, from a revised $14.5 billion. Exports fell for the fifth straight month, slipping 0.3% to $74.8 billion. But imports surged 2.2%, to $91.6 billion. One ray of hope might be appearing in the data for Asia. The U.S. merchandise trade gap with the Pacific Rim countries has held steady since May. That may be a sign that the region has hit bottom and is stabilizing.
Overall, the data suggest that net exports deducted a bit less than one percentage point from real GDP growth last quarter. That's an improvement from the 2 1/2 points cut from first-half growth. The trade picture, however, isn't likely to brighten soon. The Asian crisis is only now hitting economies in Latin America and Europe, which together buy a third of U.S. goods exports.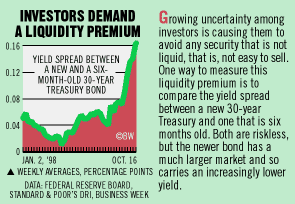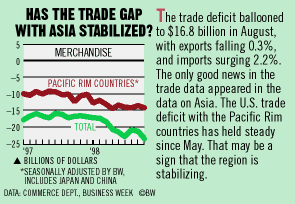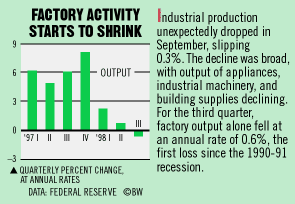 That deterioration will continue to make manufacturing the weakest sector of the economy. Industrial production fell unexpectedly--and broadly--in September, slipping 0.3%. That followed a 1.6% jump in August when motor vehicle production bounced back after the General Motors Corp. strike. For the quarter, manufacturing output fell at a 0.6% annual rate, the first decline since the 1990-91 recession (chart). Excluding vehicles, output was down a larger 0.8%.
Given the uncertainty of global conditions, the most likely outlook for the U.S. economy remains modest growth in coming quarters. The Fed, however, realizes that even that scenario will depend on keeping the economy's wheels moving smoothly. That means any more squeaks will be met--perhaps very quickly--with more policy grease.
Before it's here, it's on the Bloomberg Terminal.
LEARN MORE