Amd: Chipping At Intel's Lead
The upstart chipmaker is getting a lock on the sub-$1,000 PC market
All right, so "AMD Inside" doesn't quite roll off the tongue like the popular Intel Inc. ad campaign. But it's a fact: Suddenly, AMD chips, not those of Intel, are inside the majority of personal computers now sold through U.S. computer stores. During the first three weeks of September, nearly half of all the desktop computers sold through retailers used the AMD K6 microprocessor, according to market researcher PC Data Inc. That's a dramatic gain from a year ago when 92% of those same machines had Intel chips inside. Now, only 43% of retail PCs sold use Intel. Says International Data Corp. analyst Kelly Henry: "PC makers finally have a viable alternative."
BIGGER CHALLENGE. And AMD itself is looking a lot healthier. On Oct. 6, chipmaker AMD wowed Wall Street by reporting a $1 million profit for its third quarter ended Sept. 27. Analysts were expecting the company to lose around $15 million for the quarter. AMD lost $31.7 million during the third quarter last year. Thanks to its K6 chip, revenue for the quarter grew 15% to $685.5 million, up from $596.6 million a year earlier. Crows AMD CEO W.J. Sanders III: "The K6 carried the water."
The K6 is kicking silicon where Intel is weakest: microprocessors for sub-$1,000 PCs, which are expected to make up between 50% to 60% of computer sales this holiday season. With a 24% share of that segment, Intel is trailing far behind AMD, whose chips are in 58% of the sub-$1,000 PCs sold. Analysts believe AMD's share of inexpensive PCs could reach as much as 65% during the fourth quarter.
CHEAP THREAT. Intel may have a bigger problem ahead. The real danger, analysts say, is the erosion of Intel's stellar status in the highly profitable corporate and PC-server markets. What AMD's market-share gains suggest is that consumers are buying PCs based on price, not the brand of microprocessor. Corporate buyers, analysts say, may follow suit. The momentum of K6 in consumer markets "gives AMD sufficient credibility to attack the corporate market," says Vadim Zlotnikov, an analyst at Sanford C. Bernstein & Co.
To be sure, Intel is not in grave danger. IDC's Henry figures 82% of all desktop PCs sold in the U.S. this year will use Intel microprocessors. AMD, meanwhile, is likely to finish the year with a 12% share of all machines sold. And Zlotnikov sees Intel retaining 92% share of PC revenues, compared to AMD's 6%.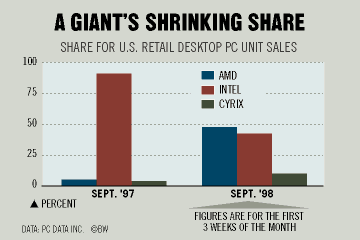 Still, analysts aren't sure those percentages will hold. Intel isn't talking about its plans to stop the losses to AMD as well as to Cyrix Corp., another rival chipmaker. Experts say Intel has to continue cutting the price of its low-end Celeron microprocessors, which are still at least 10% more expensive than AMD's K6. But analysts are more focused on Intel's ability to protect its high-end chip business, which produces its fattest profits. They expect the company to step up the introduction of higher performance chips, including more powerful versions of its Pentium chips. "They can't afford to lose that edge," says IDC's Henry. Not with AMD having the inside track with consumers.
Before it's here, it's on the Bloomberg Terminal.
LEARN MORE