These Truckers Are Hardly Truckin'...But What If The Border Migrates?
On a bad day, the line of trucks waiting to cross the border from Nuevo Laredo, Mexico, to Laredo, Tex., stretches eight kilometers. More than 5,000 cargo trucks pass through this border crossing each day. "I've been here more than three hours," Oscar Garcia says from the cab of his semi as he reaches the head of the line.
Is this one of the side effects of free trade? The Mexican government says it's just the opposite. NAFTA called for the border to be open to international truck traffic in December, 1995, but the Clinton Administration has refused to implement the provision, citing safety concerns over Mexico's trucks and drivers. Although the number of trucks passing through Laredo/Nuevo Laredo jumped 23% in just the last year, the border is still operating under its old, congestion-producing rules. A truck from one country drops off cargo at the frontier; then a shuttle takes it across, where it's picked up by another truck to take it to its destination.
After three years of waiting, Mexico says it has had enough. On Sept. 22, it filed a formal request for an arbitration panel to decide whether the U.S. is violating NAFTA by refusing to allow Mexican trucks to deliver goods anywhere in the four border states. In reality, it's less concerned about traffic jams than about lost opportunities. Low labor costs may give Mexican truckers a chance to grab a share of the U.S. market. "We're ready," says Jose Aguilar, ground transport chief for Mexico's Communication & Transportation Ministry. "We've been ready for the last three years."
Mexican truckers aren't so sure. At a Sept. 9-11 convention in Laredo, they complained that the weak peso and rapidly rising rates mean that they don't have access to the credit it would take to expand into the U.S. market. They're much more worried about American companies swooping in and capturing their routes. "Our government is negotiating without understanding the real problems that we truckers are having," says Miguel Quintanilla, president of United Transporters, based in the state of Mexico.
WINDFALL. The dispute has made for some strange bedfellows. The American Trucking Assns., representing the trucking giants, are backing the Mexican government. U.S. companies have higher productivity, a more modern fleet, and the capital to expand. The Teamsters Union, meanwhile, fears that U.S. companies may start using cheaper Mexican drivers. So the union is backing the Mexican trucking companies in trying to delay the border opening.
The Clinton Administration says it won't be pressured. Officials know that a major accident involving an unsafe Mexican truck would be a windfall for NAFTA opponents. They add that while Mexico has made progress in meeting safety standards, it has a ways to go. If Mexico wants to raise the stakes by demanding arbitration, says a transportation official, so be it: "Continuing down that road forces the U.S. to delineate with a finer and finer comb what some of the safety problems are." And that could leave those trucks backed up at the border for months.
Can technology move the border? Some Texas cities, jealous of how growing traffic has fueled Laredo's prosperity, hope it can.
New computer technology means that most customs services for truck cargo can be done anywhere. When an open frontier allows trucks to shuttle back and forth easily between regional shipping hubs like San Antonio and Monterrey, Mexico, most warehousing, customs brokerage, and even customs inspections potentially could be moved to those cities as well.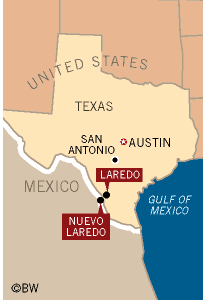 After the recent closure of Kelly Air Force Base in San Antonio, the city wants to use the surplus warehousing and transportation infrastructure left behind to transform itself into a new border town--nearly 250 km from where the frontier actually sits. It's something U.S. Customs officials agree may be only a few years away. "We'll always do exams for drugs here on the border. Other kinds of exams--checking merchandise or commercial licenses--could all be done farther along," says Maria Reba, director of the South Texas Customs Management Center. "At that point, the brokers and the truckers in Laredo have to come and say: `I can give you better service.' Otherwise the [customs business] may just pick up and go away."
Before it's here, it's on the Bloomberg Terminal.
LEARN MORE