Merck Takes Some Growth Pills
It says new drugs should allay investors' fears
To hear Raymond V. Gilmartin tell it, drug industry leader Merck & Co. is poised to do the unthinkable. In the years 2000 and 2001, Merck will see U.S. patents expire on five big drugs that will be generating about $5 billion in worldwide sales. Other giants that have faced patent expirations on blockbuster drugs have seen sharply lower revenues and earnings growth as cheaper generics gobble up sales. But Gilmartin contends Merck's stable of new drugs will more than offset the drop, allowing it to generate growth rates competitive with industry leaders. "Merck has defied conventional wisdom before," he asserts.
That confidence, however, hasn't spread to Wall Street, for good reason. Some of the new products are off to slower starts than expected. Moreover, technology advances have accelerated drug development times. That means similar, or even superior, drugs are going up against Merck products faster than ever. And while Merck's prowess at launching products is proven, it has shown less impressive results in defending some key markets. "You have to assume nothing goes wrong," says James C. Baker, portfolio manager at ARK Asset Management Co., a Merck institutional shareholder. "It's not a sure thing."
REVVING UP. The bottom line: Analysts and investors are increasingly concerned about the possibility of a major slide in Merck's growth rate. While the company saw both sales and profits grow 19% last year--bringing sales to $23.6 billion and net income to $4.6 billion--SG Cowen analyst Stephen M. Scala figures sales growth will drop to 8% in 2001 and 6% in 2002. He expects net income growth to slow to 9% and 6% in those years. Although still decent--Glaxo Wellcome PLC saw income climb just 3% in 1997, when its Zantac went off patent--such rates would lag industry leaders, which are expected grow in the teens.
Merck's stock, priced around 130, reflects that expectation. It trades at a price-to-earnings ratio of 26.5, based on 1999 earnings expectations. The average drug stock now has a p-e of 31.5.
But if Gilmartin is worried, he doesn't show it. He insists that much of the investment community underestimates the earnings power of Merck's portfolio: "It is very difficult for people on the outside to get a good handle on how big these drugs could be." And he has been priming that engine since he took the helm in June, 1994. Gilmartin has cut operating and overhead costs--by $350 million total in 1995 and 1996--and pumped that money back into research and marketing. At the same time, he unloaded slow-growing or peripheral businesses like generic drugs. He unwound a joint venture with DuPont Co. that would have been a drag on earnings and restructured a deal with Astra AB to give Merck more revenues and a minimum payout of $6.3 billion if Astra buys out Merck's share.
TURF WARS. Under longtime research chief Dr. Edward M. Scolnick, Merck continues to turn out plenty of potential megahits. There is buzz in the industry that a new antidepressant under development could be a blockbuster when it hits the market as early as 2001. Still, it probably won't arrive in time to make a meaningful contribution in the critical patent-expiration years. In that period, Merck will be leaning on its newer drugs, including five rolled out in the last year and the prescription painkiller Vioxx, which should arrive in mid-1999. Most of the launches are meeting expectations, although sales of the Propecia hair-loss pill have been slower than analysts expected, possibly because most big HMOs won't pay for it.
While Merck continues to excel at cracking open markets in need of innovative therapies, a boom in drug development technologies has shortened the time that those pioneering drugs have an exclusive grip. Take Merck's Crixivan, one of the first of the "protease inhibitors" that has successfully suppressed the AIDS virus when taken with other drugs. Sales of Crixivan are expected to near $700 million this year, but they have slowed significantly in the face of competition from Viracept, a drug produced by biotech upstart Agouron Pharmaceuticals Inc. Viracept now shares the No.1 spot in the U.S. with Crixivan in part because patients don't have to stick to Crixivan's rigid dosing schedule. "Maybe they didn't take us seriously enough," says Agouron Chairman Peter Johnson.
If that isn't enough cause for concern, another recent beating has Merck watchers questioning the company's ability to defend the turf of its more established drugs. Merck pioneered the category of cholesterol-reducing drugs and saw sales of its newest entry, Zocor, soar to $3.6 billion last year. The primary reason was a landmark--and costly--Merck study in 1994 showing that the product saves lives and prevents heart attacks and strokes in people with heart disease and high cholesterol. But in 1997, Zocor's heady growth tumbled with the arrival of Lipitor from Warner-Lambert Co. Warner teamed up with drug-marketing powerhouse Pfizer Inc. to quickly grab the top spot. At the end of the June quarter, Lipitor had a 31% share, vs. Zocor's 24.5%, says market research firm IMS Health Inc.
FAST MOVES. Lipitor's big advantage is that it is a more potent drug. Still, its dominance--and Zocor's stunning setback--has as much to do with marketing as with potency. For one thing, Merck didn't expect Warner to get accelerated approval. But Warner made a convincing case to the Food & Drug Administration and hit the market in February, 1997--about six months earlier than expected. Merck hadn't completed its planned expansion of the Zocor sales force. As a result, Warner and Pfizer--with a combined 2,700 sales reps to promote the launch--outgunned the roughly 1,400 people pushing Merck's Zocor, according to research firm Scott-Levin.
But Warner didn't stop there. Extensive market research showed physicians were concerned about lowering triglyceride levels in the blood as well as cholesterol. So Warner sought and received an O.K. from the FDA to note on its label that Lipitor was proven to do both. While Zocor also lowers triglycerides, Merck didn't initially ask to say that prominently on its label, in part because lowering triglycerides isn't proven to be a major benefit in most patients. So Merck sales reps couldn't promote the point with doctors. Lipitor's claim "was like the cherry on top of the sundae," says Warner-Lambert Vice-President Lynn Alexy. Merck followed suit in November, 1997, but Warner and Pfizer had months to exploit the difference.
Gilmartin says the Zocor debacle taught Merck important lessons. For one, Merck is doing more research on factors driving physician decisions. It also got the O.K. for a higher 20-milligram starting dose on Zocor this summer, which puts its cholesterol-lowering ability in line with Lipitor. And it is aggressively discounting the drug to big hospitals. "This battle is not over," vows Gilmartin.
A big test of Merck's marketing muscle will come later next year when it launches Vioxx. The painkiller, part of a new class called Cox-2 inhibitors, is likely to be huge. The Cox-2s are expected to provide the same pain relief as prescription nonsteroidal anti-inflammatories--stronger versions of Advil-like drugs--but without side effects such as stomach bleeding. "It is as good a drug as Merck has ever made," says research head Scolnick.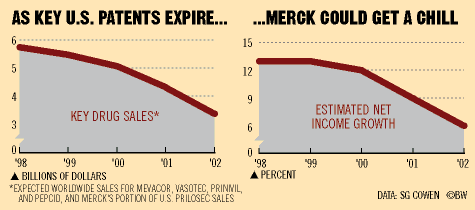 BIG BET. But Vioxx is likely to be second to market, trailing a G.D. Searle & Co. drug by four to five monthS. There, Merck will again square off against Pfizer, which has struck a deal to co-promote Searle's drug. Gilmartin won't discuss marketing plans, but he points out Vioxx has one critical advantage. Vioxx is taken just once a day, vs. twice a day for its rival. Analysts expect the product to generate billions in revenues, which is key to filling the patent hole. "Vioxx is the single most important factor in the three- to five-year outlook for Merck," says Norman M. Fidel, senior vice-president at Alliance Capital Management LP, a big Merck investor.
Some analysts think Gilmartin should Hedge his bets with co-marketing deals similar to the ones struck by Warner and Pfizer. But Gilmartin says Merck's pipeline is rich enough that he can go it alone. "The best use of our resources and time and attention is to grow through internal development rather than through mergers and acquisitions," he insists. It's a risky bet with little room for error. One stumble and a chastened Merck may find it needs a radically different prescription for growth.
Before it's here, it's on the Bloomberg Terminal.
LEARN MORE