The Pall Over Toyland
Scarce hits and precocious kids could make this a dismal year
Paul Cleveland is no babe in the woods. Still, the former head of the Mattel boys' toy division, who now runs WPF Inc., expected hefty orders for his company's Alien Anatomy game--especially after Toys `R' Us Inc. ordered 15,000 in 1997. At February's Toy Fair, a Toys `R' Us buyer stopped by to praise the aliens, which feature removable innards. But praise turned out to be all Cleveland got. "Two years ago they would have doubled their orders," claims Cleveland, who has resorted to selling his aliens in car-wash gift shops. "We have had to scramble."
That goes for the entire toy business. Following the lead of Toys `R' Us, retailers are cutting back on the number of toys they order. Retail sales for toys are up just 0.7% over last year, according to NPD Group Inc., a Port Washington (N.Y.) marketing consulting group. There isn't likely to be much merrymaking in toyland this Christmas, either. NPD projects a 2% hike in overall 1998 sales. "It is a wakeup call for the industry," says Stephen Berman, president of Jakks Pacific, a Malibu, Calif., toymaker.
NOT COOL. Toys `R' Us is by far the biggest grinch. Locked in a losing battle for market share with Wal-Mart Stores Inc. and other mass retailers, the company on Sept. 16 announced a restructuring that will close 90 stores, reformat current ones to add kids' apparel and electronics items such as cell phones, and cut prices on existing toy stock. The move comes after a March decision to slash inventory by $500 million over the next two years. These steps have already hurt shipments and could siphon sales away from newer toys. Toys `R' Us declined to comment. But the company scheduled a meeting with manufacturers on Sept. 24 to outline how its changes will affect them.
For toymakers such as Mattel Inc. and Hasbro Inc., though, the challenges don't end with Toys `R' Us. Manufacturers simply haven't come up with hot toys yet this year. Hasbro's Teletubbies, Galoob's Spice Girls, and Mattel's Hot Wheels and Winnie the Pooh lines are selling just fine. But they don't compare with last year's rages, such as Tamagotchis. "The couple of bright spots are not enough to drive people into the stores," says John Taylor, an analyst at Arcadia Research.
The boys' aisles are particularly depressing. Action figures tied to Hollywood films and TV shows have long been the cash cows of that side of the business. But the action-hero business is down 15% year to date, according to NPD. "My worry is consumers are more sophisticated--that it isn't cool anymore to see a movie and then run out and buy toys," says Woody Browne, president of Building Q, a licensing agent.
Worse yet, toy companies are picking up a dangerous signal: They fear that kids are junking their toys sooner these days, putting aside Barbie in favor of Spice Girls CDs, clothes, and video games. "Kids' interest in traditional toys is peaking one or two years earlier than 10 years ago," says John Eyler, CEO of F.A.O. Schwarz.
AVON CALLING. Mattel and Hasbro are trying to head off the defections. Both companies have built sizable collector businesses from scratch in the past few years. Hasbro has diversified into candy. And Mattel is aggressively looking for new sales outlets. Avon ladies now go door-to-door pitching collector Barbie dolls along with their cosmetics, while Shell stations stock Hot Wheels cars.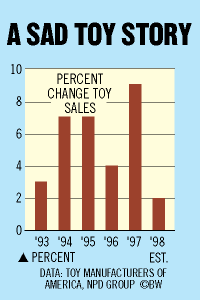 Mattel and Hasbro are going interactive. They already rank among the top 10 PC game makers. Starting in November, kids will be able to design their own Barbies on Mattel's Web site. Hasbro bought Tiger Electronics this year, which now produces most of its board games, including Monopoly and Clue, as CD-ROMs or handheld games. "Today we define ourselves as a kids' leisure company, not a toy company," says Adam Klein, head of marketing and strategy.
Of course, nothing will restore faith in the toy industry as much as a megahit. Hasbro and Galoob have bet heavily on toys tied to the upcoming Star Wars trilogy. Together, analysts estimate, they could pay almost $1 billion to George Lucas to license his action figures. After a year of sluggish sales and slashed inventory, the entire toy industry is praying that the Force is with them.
Before it's here, it's on the Bloomberg Terminal.
LEARN MORE