Death Be Not So Profitable
Lower mortality rates have left funeral players such as Service Corp. scrambling for new growth sources
From education to housing to health care, the arrival of the baby boomers has been the defining demographic event for many an industry. And few companies have anticipated the boomers' evolution as eagerly as $2.7 billion Service Corp. International, the biggest and most profitable of the funeral home consolidators. Through the past two decades, the Houston company has assembled nearly 3,300 funeral homes around the world and recorded rich 25% operating profit margins, fueled by a steady 1% yearly rise in deaths.
But now, demographers see growing evidence that medical advances and healthier lifestyles are letting more of us defer the day of reckoning. In a dramatic change from past projections, age-adjusted deaths in the U.S. fell 3% last year on top of smaller declines the prior two years, according to the Centers for Disease Control & Prevention. Experts say the key causes are advances in HIV treatment, post-surgery heart care, and new strides in low-birthweight infant survival--and that the trend should continue. "The decrease in the death rate is based on solid progress that shouldn't reverse," insists Dr. Charles G. Hertz, chief medical director of Metropolitan Life Insurance Co. and editor of the demographic and health-care journal Statistical Bulletin.
That news, while encouraging for most of us, is forcing SCI to alter its growth strategy. After a torrid pace of funeral home acquisitions--SCI has bought more than 1,800 homes since 1995--the chain is downshifting its dealmaking and cranking up sales of "pre-need," or prearranged, funerals to boost revenues. It recently created a finance division as part of a plan to profit from selling life-insurance policies tied to funeral costs. Even with the market slowdown, "we can expand future revenues by expanding pre-need [sales]," insists SCI President L. William Heiligbrodt.
"BRILLIANT." While still enjoying growth from acquisitions, SCI's revenues per funeral home have slipped 5% since 1996 (chart). Earnings this year are still expected to rise 20%, to $400 million, as a result of price increases and acquisitions. Others in the industry have been harder hit. In July, the second-largest funeral home operator, Loewen Group Inc. of Burnaby, B.C., put itself on the block, blaming "soft" mortality rates for a failed turnaround. Loewen's earnings fell 56%, to $11.6 million, in the quarter ended June 30, on an 8% drop in revenues per funeral home.
Investors, meanwhile, have cooled on funeral-industry stocks. In addition to concerns about the improving death rate, the entire sector is sagging over worries that the consolidators' frenetic dealmaking has driven up prices for funeral homes to the point where many further acquisitions don't make economic sense. The Pauze Tombstone index of death-care stocks is up 1%, compared with the 6% gain in the Standard & Poor's 500-stock index. SCI, once a Wall Street darling because of its persistent 20%-plus annual earnings gains, is trading at 39 1/16, up 6% for the year.
It's not as if funeral homes can exactly expand their customer base. But SCI figures that it can grab some future business before it matures. That was the motivation behind two recent buys. On July 17, it purchased, for $164 million, an American Annuity Group Inc. unit that underwrites prearranged funeral policies. Three weeks later, it agreed to pay $830 million for rural funeral and cemetery operator Equity Corp. International, a spin-off SCI had only finished divesting in January, 1997. That spin-off had figured into SCI's plan for an unsuccessful attempt to buy Loewen; now, it may fit in with the new strategy.
Since 1995, SCI has boosted its annual sales of prearranged funeral policies from $371 million to about $700 million. Typically, such sales don't immediately add to revenues until the services are delivered. But owning the insurance unit enables SCI to profit immediately from the underwriting, taking transaction profits of 12% to 15% at the time of sale--and locking in future revenues. "This is a way to sell pre-need, service more families, and make this additional profit. It's absolutely brilliant," says Daniel M. Isard, president of Foresight Analysts Inc., a Phoenix death-care consulting company.
DEAD AGAIN. In the meantime, the run-up in funeral home prices is likely to crimp acquisitions. SCI recently broke up a corporate acquisitions group and shifted its employees into funeral, cemetery, and finance divisions. The intent is "to get better decisions and better business," not fewer deals, says Heiligbrodt. While acquisitions will play a smaller role in its future growth, "we're not going to abandon the acquisitions business," he insists.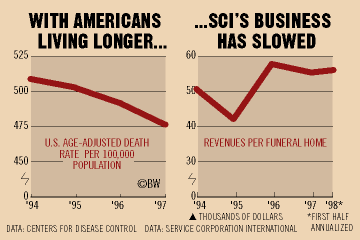 Of course, improved health and medical care don't mean that we will live forever--and the numerous baby boomers will inevitably increase demand for funeral services. "This isn't a product you can walk away from," says J.P. Morgan Securities analyst Joseph Chiarelli. Even if the nation's mortality rate doesn't soon return to the past rate of annual increases, the aging of the boomers suggests that the number of deaths should begin to climb rapidly within a decade. The fastest-growing segment of the U.S. population is that which is 65 and older; it is expected to double, to 4 million, between 1990 and 2000. "A good management team will find a way to get through this period," says Chiarelli.
If he's right, the years of easy growth could quickly return. But that's assuming medical advances don't intrude on other key causes of death, such as cancer. Death and taxes are inevitable--but the timing of them may be another thing altogether.
Before it's here, it's on the Bloomberg Terminal.
LEARN MORE