Buried In Nomura's Real Estate Rubble
More fallout from the mortgage-backed-securities meltdown
Observant investors at the Capital America conference on Aug. 27 noticed something weird going on. The conference, hosted by Ethan Penner, the aggressive banker who had made Nomura Securities Co. a top player in commercial real estate finance, was the event of the year for people interested in the arcane but lucrative world of commercial mortgage-backed securities. The business of securitizing commercial mortgages had made 37-year-old Penner one of the highest-paid people on Wall Street, earning as much as $45 million a year.
But that night, there was Penner, who had just persuaded Nomura to put its CMB business into a separate Capital Company of America subsidiary, sitting at the same dinner table with the Nomura brass--yet neither camp was saying a word to the other.
Soon enough, it became clear why there was a chill. On Sept. 19, Nomura Holding America, owner of Capital America, announced that it had accepted Penner's resignation. Three days later, Tokyo-based Nomura Securities announced that it would inject $380 million in equity and $150 million in subordinated debt into Nomura Holdings America. Capital America, Nomura says, will show a $275 million aftertax loss for the six months ending on Sept. 30. Part of the parent company's infusion will be used to bring Capital America's capitalization back to the $1 billion it started with when the unit was made a separate subsidiary in June. Says William Wraith IV, co-CEO of Nomura Holding America, in a press release: "This demonstrates that we and our parent fully support Capital America and its new management."
Capital America is just the most visible casualty in an increasingly shaky market. Investment houses, including CS First Boston, Lehman Brothers, and Capital America account for almost 70% of the loans backing CMB issues. And because they don't want to sell into a market where demand is scarce, they are sitting on billions in inventory that may well be overvalued.
PRICKLY HEDGES. Making matters worse, the fixed-income markets have turned on these firms. They had tried to protect against rising interest rates--and falling bond prices--while they held the CMBs. It's common for dealers to use hedges in this market, where it can take months to make loans, have them rated by credit agencies, and then sell them to investors. Firms are desperate to limit the risk that market conditions will change while they're holding the assets. So they routinely hedge against the risk of rising interest rates by selling Treasury bonds short. The theory is that if rates rise, losses on the value of the loans they hold would be offset by the rising value of their hedges--and vice versa.
Not this time. With the rest of the world collapsing, investors are paying up for Treasuries. That means prices on Treasuries are rising, not falling. But buyers are staying away from other fixed-income securities. So despite the fact that delinquencies on commercial loans are at a 28-year low, prices for CMBs have not rallied along with Treasuries, and the spread between AAA-rated CMBs and 10-year Treasury bonds has almost doubled in the past six months, to 130 basis points. As a result, the firms' losses from hedges have mounted, and the value of the CMB securities has remained flat or declined. "There's no successful hedge for [yield] spread risk," says Andy Stone, the head of Credit Suisse First Boston's CMB division.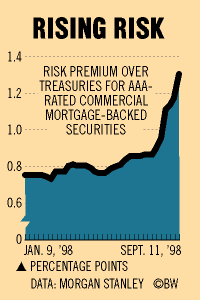 Now, the problems are coming home to roost--and not just at Nomura. WMF Group, a real estate lender based in Vienna, Va., took a $30 million loss on Aug. 31, when it sold a $691 million portfolio of loans to Merrill Lynch & Co., nearly wiping out its $40 million in capital. "This is the 100-year flood in our industry," says Michael Ketcham, WMF's chief financial officer. If WMF's experience is typical, Wall Street firms holding most of the estimated $35 billion in commercial loans slated to come to market this year could face losses of $500 million or more on the value of the CMBs themselves and on the attempted hedges.
Some firms, eager to keep their inventory from expanding further, have simply stopped making new real estate loans. In early September, Credit Suisse First Boston announced it would cease new lending until conditions in the CMB market improve. Others have since followed suit. It remains to be seen what Nomura will do. But one thing is for sure: Nomura and others will feel plenty of pain before they see new gains in this market.
Before it's here, it's on the Bloomberg Terminal.
LEARN MORE