U.S.: The Betting Now Is For A Rate Cut
The snag: Solid domestic demand doesn't justify such a move
About-face! Economists' expectations for Federal Reserve policy have turned 180 degrees in recent weeks. A slew of analysts have not only downgraded their outlooks for economic growth, but they are also projecting that the Fed will cut interest rates some time between the Sept. 29 policy meeting and early next year. For most, the only questions left are "when" and "how much."
It's not just the economists betting on lower rates. The credit markets have priced a substantial Fed easing into the value of securities. The shift in market opinion has been fueled by three things: the gravity of world financial distress, its fallout on U.S. markets and its implication for slower U.S. growth, and recent words by Fed Chairman Alan Greenspan, who revealed on Sept. 4 a general shift in the Fed's thinking about its policy priorities.
Talk of Fed easing is somewhat at odds with continued strong economic data. Retail sales held up in August (chart). Home buyers are lining up for mortgages, as loan applications soared in early September. New claims for jobless benefits remain low, suggesting firm labor markets. And industrial output rebounded strongly in August, after the strike ended at General Motors Corp.
To be sure, the resilience of the U.S. economy in tHe face of global distress has been its most remarkable featUre so far this year. However, economists and Wall Streeters, as well as Fed policymakers, know that current data has been rendered "old news" by recent events. Now, the focus is the future, at a time when prospects are dimming. In fact, on Sept. 16, Greenspan noted "the first signs of erosion around the edges" of the U.S. economy.
GIVEN THE ECONOMY'S TRACK RECORD, the Fed will undoubtedly move cautiously, taking care not to underestimate the power of domestic demand, especially with labor markets still very tight. Indeed, in his much-anticipated Congressional testimony on Sept. 16, Greenspan's prepared remarks offered few new insights into his thinking on a possible U.S. rate cut. He also appeared to scotch recent talk about a broad rate reduction among large industrialized nations, saying that "at the moment there is no endeavor to coordinate interest rates cuts."
Meanwhile, the financial markets are telling the Fed to ease. The Treasury's three-month bill and the two-year note both are yielding about 4.7% as of Sept. 15, while the Fed's overnight policy rate remains at 5.5%. That spread says that the market expects eventually to see at least three-quarters of a percentage point of easing. With bourses around the world, including those in the U.S., so fragile now, the Fed may be more attentive to market sentiment than usual. The Fed knows that if it frustrates these expectations of lower rates, the markets could react negatively.
In addition, several policy models are signaling an easing. The popular Taylor Rule, which relates economic growth and inflation to the Fed's policy rate, is beginning to call for a rate cut for the first time in two years. If economic growth slips below its 2 1/4% trend rate, as is increasingly expected, the model's easing recommendation will strengthen. The Taylor Rule has tracked Fed policy in the 1990s fairly well.
Despite some forecasts of a cut as early as the Fed's Sept. 29 meeting, the more likely action will be a formal vote to shift the central bank's policy bias from neutral to easing. Greenspan has already signaled that the Fed moved its so-called intermeeting policy directive from tightening to neutral at the Aug. 19 meeting. Such a further shift does not guaranTee a rate cut, but it would cock the Fed's pistol, and possibly even give Greenspan the authority to fire away at any time.
CLEARLY, THE NEW RESTRICTIVENESS in global and U.S. financial conditions is a key feature of the downshift in U.S. growth prospects. Slower world growth will continue to dent U.S. exports, and weaker stock prices will clip consumer outlays and capital spending. But what has gone largely unnoticed is the widening of credit spreads in the U.S., a development that Greenspan regards as usually a bad sign for the economy (table). Despite the huge rally in the Treasury bond market, some corporate borrowers are getting stiffed.
For example, the Treasury rally had dropped the yield on the 30-year bond to as low as 5.13% on Sept. 11, before backing up recently to about 5.25%. But while Treasury yields have fallen 50 basis points since mid-July, top-quality AAA-rated corporate bonds have declined less than 20 basis points, to 6.43%. Meanwhile, yields on medium-grade corporates have not declined at all, and those for poorer quality borrowers have increased sharply.
The Fed is aware that any move to cut rates could come at a cost of higher U.S. inflation. In particular, any Fed easing would invite a sharp weakening ofthe dollar, especially if the move is not in conjunction with other large central banks. Remarks by top officials at the Bundesbank on Sept. 15 strongly suggest that Germany has no desire to cut rates. A weaker dollar would be a plus for currencies and financial conditions outside U.S. borders, but the dollar's 25% trade-weighted surge in the past three years also has supplied a key restraint on U.S. inflation. This is the chief reason the Fed will move cautiously. The dollar has already dipped broadly just on the expectation of a U.S. rate cut (chart).
THE SOLID TONE OF DOMESTIC DEMAND hardly justifies a rate cut. Retail sales rose 0.2% in August, and excluding car-buying, sales were up 0.3%. The retail data suggest that overall real consumer spending in the third quarter is rising at an annual rate of about 2%. While that's a sharp slowdown from the booming 6% pace in the first half, most of the change can be accounted for by a drop in auto sales prompted by the GM strike and the expiration of generous spring sales incentives, which caused sales to surge back then.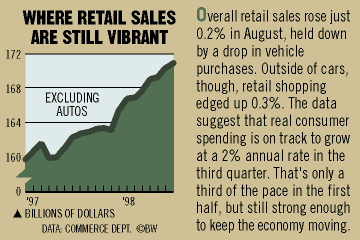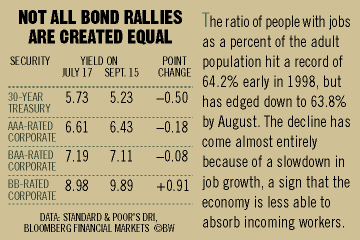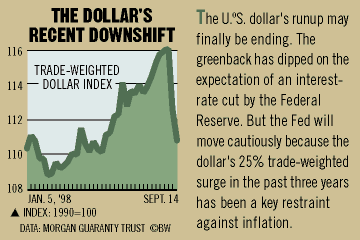 Foreign demand is a different story, however. Industrial production at manufacturers, utilities, and mines jumped 1.7% in August, after falling 1.1% in June and 0.4% in July. Output in the manufacturing sector alone surged 2% in August, but here again, the auto strike is distorting the data. Excluding motor vehicles and parts, factory output rose a scant 0.1%, and for the third quarter, it is on a track to post little, if any, growth for the first time since the 1990-91 recession. That weakness primarily reflects sagging exports and more import competition.
Trying to second-guess Greenspan & Co. is always risky business. Clearly, domestic economic conditions do not argue strongly for a rate reduction, but based on his latest comments, Greenspan's Brave New World thinking may well have altered the way the Fed chief views U.S. policy in a global economy. On Sept. 16, he said that monetary policy "cannot be done without advertence to the world economy." For now, the markets have made their bets. The next move is up to the Fed.
Before it's here, it's on the Bloomberg Terminal.
LEARN MORE