The New Lords Of Football?
Media barons grab top teams and may transform the sport
A new form of football madness has Britain in its grip. This one doesn't feature hooligans beating supporters of rival clubs to a pulp. Instead, there is a frenzy of speculation about what media company is going to buy which team and for how many hundreds of millions.
It started on Sept. 9 with British Sky Broadcasting's $1 billion takeover bid for Manchester United, Britain's richest and most successful team. The bid was a 51% premium over the club's stock price before word of the deal leaked out. The spectacle of Rupert Murdoch's satellite broadcasting juggernaut gobbling up one of the world's most profitable clubs was too much for Britain's other media companies. Carlton Communications PLC soon acknowledged that it was talking with North London-based Arsenal, winner of last year's FA Premier League Championship--Britain's top prize. The stock prices of other clubs, such as Tottenham Hotspur and Newcastle United, have surged on takeover rumors.
Behind the big numbers is the realization among club owners, media executives, and financiers that football is set for sweeping changes, not only in Britain but across Europe. Sports programming, which in Europe mainly means football, is the lifeblood of the media moguls' fast-growing pay-television empires. So Sky and other broadcasters are eager to make sure they retain the rights to the games. "There is a natural fit between media and sports organizations," says Mark Booth, Sky's chief executive. "We thought we needed to get there before anybody else."
Naturally, Sky and other media companies would like to keep the upper hand as the face of European sports changes. Owners of the top clubs want to turn football into a modern, U.S.-style business. That will likely involve much more cross-border competition among elite teams, to maximize television revenues. Under the existing system of national leagues, the top-tier owners believe, their teams waste much of their season playing inferior, domestic opponents. They also think that the Union of European Football Assns. (UEFA), the sport's governing body, has grossly undermarketed the rights to the existing pan-European competitions.
FANNING DISCONTENT. Media moguls will applaud any new system that boosts revenues, but they also want to make sure that they hang on to TV rights. Having a lock on the broadcasts of England's Premier League has been crucial to Sky's progress from a struggling upstart in the early 1990s to a money machine that earned $450 million in the year ended June 30. But those rights expire in 2001, so Sky is buying the top team in part to gain leverage at the bargaining table when they do. British rights that didn't include Manchester United would be worth much less. Sky is now paying about $1.1 billion for rights to the Premier League over four years.
And by 2001, the football landscape could be completely different. One proposal, by a group called Media Partners, is fanning discontent with UEFA. The Milan-based entrepreneurs have approached the top clubs to suggest a new Super League to replace the existing Champions League, a tournament among the previous year's top finishers in the major national leagues. Media Partners' competition would take place during midweek--a relatively dead spot now--and would pit Europe's top 36 teams against one another.
The top clubs like the idea and have met 11 times already with Media Partners to iron out details. The Milanese group is offering a guaranteed total of $3 billion over three years from the Super League tournament, compared with the $150 million the clubs received last year from the UEFA-sponsored Champions League. Media Partners has hired J.P. Morgan & Co. to explore ways of ensuring the financing, including possibly securitizing expected revenues.
The top clubs also applaud Media Partners' proposal that 18 of the creme de la creme, including Manchester United and Italy's Juventus, would be guaranteed spots in the tournament for the first three years. At present, clubs earn their slots with the previous year's performance. Clubs want guaranteed revenues so they can gauge how much to spend signing players. Top players command huge transfer fees and salaries: Internazionale Milan paid $30 million to Barcelona for the Brazilian superstar Ronaldo in 1997.
POLITICAL BACKLASH? It's far from clear that Media Partners will prevail. Not surprisingly, UEFA is strongly opposed to the plan and is devising a new tournament of its own, to be unveiled by yearend. But no matter which ideas win out, the rivalry is likely to alter European football. For instance, to retain a key role, UEFA will have to improve its performance in marketing TV rights.
The fear is that existing national leagues, such as England's Premier League, Spain's Primera Liga, and Italy's Serie A, may become less important. And the top few Super League clubs will thrive while smaller, poorer teams struggle. Such a gap might kill off youth football programs and squelch grassroots support for the game.
UEFA will probably tailor whatever it proposes to help poorer teams. For instance, its system may include a U.S.-style player draft. For now, money is the main determinant of where a player goes. "We know that change is coming, and it could be good for the sport," says Alasdair Bell, UEFA's chief lawyer. "We just want to find a way of increasing pan-European competition without destroying the local football system."
When it comes to financial performance, the gap between top clubs and also-rans is already huge. In Britain, where football is most profitable, the top five clubs in the Premier League take in 70% of the 20-team league's profits. In fact, says Mathew Horsman, an analyst at broker Henderson Crosthwaite in London, there are only three British teams whose future prospects make them worth a big media company's while: Manchester United, Liverpool, and Arsenal. These are the most likely to be included in a Super League.
Manchester United is easily at the head of the class. In 1997 its $146 million in revenues more than doubled those of No.2 Newcastle United. Manchester takes in a sizable $50 million or so per year from team merchandise and has started its own cable channel, MUTV. S.G. Warburg in London estimates that being in the Super League would add $62 million per year in TV revenues and other sales.
Murdoch may be leading the way in Britain, but on the Continent, media barons have already snapped up key teams. In Italy, Silvio Berlusconi, owner of Mediaset, controls AC Milan, and French TV giant Canal Plus owns Paris St. Germain along with a Geneva franchise. Of course, moguls aren't likely to snap up every team--or even all the best clubs. Europe has too many teams and too few media players. But European Competition Commissioner Karel Van Miert is bound to give tough scrutiny to any plan he thinks will strengthen media cartels.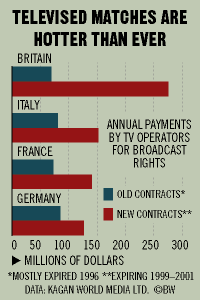 There could also be a political backlash against plans for a Super League, especially if fans have to pay more for the games. Football is such an integral part of Europeans' daily cultural fare that politicians may fight anything that threatens the national leagues. That's one reason Media Partners aims to complement them, not replace them.
Yet it seems almost certain that European football is headed the way of U.S. professional sports, where lots of franchises are now in the hands of big corporations, many of them in the entertainment business. The fans may not like it, but the game is growing up.
Before it's here, it's on the Bloomberg Terminal.
LEARN MORE