One Friend Clinton Can Count On: The Expansion
It's withstanding stock market gyrations and troubles abroad
As Bill Clinton scrambles to keep his Presidency afloat, he can take comfort in this: The record 7 1/2-year-old economic expansion that has sustained his approval ratings--and helped convince Americans that it would be foolish to dismiss him over a sordid sex scandal--isn't likely to let him down. Indeed, unless Clinton is forced to resign or is impeached--provoking a severe crisis of confidence and policy paralysis--most economists expect the U.S. to continue to grow.
Still, as the recent gyrations in equity markets indicate, the economy's ability to grow will be seriously challenged. The emerging-markets meltdown is crimping U.S. corporate sales abroad. And deflating prices and rising wages are beginning to cut deeply into profits. In its Sept. 16 Beige Book, the Federal Reserve Board said "the economy is continuing to expand at a moderate pace, although several districts indicated slowing in some sectors." The consensus view of economists surveyed by the Blue Chip Economic Indicators sees real gross domestic product rising at a moderate 2.3% annual rate in the last two quarters of 1998, little more than half the 3.6% gain in the first two. In 1999, growth is expected to drop to 2.2%. That would be the weakest pace since the 1990-91 recession.
And there are some who anticipate an even worse performance. William C. Dudley, chief U.S. economist for Goldman, Sachs & Co., has cut his 1999 forecast of GDP growth from 2.7% to a skimpy 1.7%. One reason: As the global economic crisis spreads from Asia and Russia to the Western Hemisphere, U.S. exports will suffer greatly. "The issue is not Clinton. The real issue is Brazil and Latin America," he says.
Already, collapsing exports are punishing U.S. manufacturers. The trade deficit has mushroomed and subtracted 2.5 percentage points from real GDP growth so far this year. In its wake, factories have pink-slipped 154,000 workers since payrolls peaked in March. That's even with some 140,000 employees who returned to work in late July after the General Motors Corp. strike. A post-strike rebound in vehicle production boosted industrial output by 1.7% in August. But falling exports are restraining the gains in output of capital machinery, appliances, and electronics.
Another worry is the slowdown in capital spending. The growth in industrial capacity is already eclipsing even the economy's stellar 3.6% pace of the first half, and the percentage of idled plants is increasing in most industries.
The overhang could become more severe in the wake of the U.S. stock market correction, which has shaved 14% off the Dow Jones industrial average since July 17. With the plunge in stock prices, Americans are rethinking investment plans. Equity gains had financed a big part of the five-year-long capital-spending blitz, while the "wealth effect" made consumers more at ease with buying more and saving less. The stock market runup also fueled the housing boom.
LESS FROTH. Now, says Robert V. DiClemente of Salomon Smith Barney, consumers will scale back a bit. He was projecting an extra $100 billion in spending financed by asset appreciation over the next two years. Now, he says that's down to $20 billion and shrinking. DiClemente thinks consumers will forgo "froth spending"--items such as jewelry, luxury vacations, and second homes.
Wall Street won't revisit its recent highs until investors see a brighter picture for profits. Aftertax earnings of nonfinancial corporations have fallen for three quarters in a row, a decline that is approaching the dip experienced during the last recession. Certainly, global factors have contributed to the drop, but the main cause, labor costs, is homegrown. Over the past year, unit labor costs rose 2.4%, while prices were up less than 1%. "Corporations are really caught," says David Wyss, chief economist of Standard & Poor's DRI. "Employment costs are going up due to tight labor markets, but they can't pass it on due to the strong dollar and import competition." That won't change until labor markets loosen, which DRI doesn't expect to happen until late 1999.
Yet for all its increasing negatives, the economy overall still looks secure. Job growth has slowed from a monthly pace of 350,000 in late 1997, but thanks to the strong service sector, new hires still average around 200,000 a month. So far, that pace--along with real wage growth--has been large enough to stop households from relapsing into a case of the job jitters, even as layoffs rise. Moreover, while increasing labor costs wreak havoc on profit margins, they also provide consumers with fatter paychecks to keep shopping. With retail sales up 0.2% in August, real consumer spending is probably growing at a 2% annual rate in the third quarter. True, that's a third of the pace in the first half, but it's healthy enough to keep the economy moving.
In addition, the global flight to quality has pulled the yield on a 30-year Treasury down to 5.2%. The bond rally will lower Washington's interest payments, a plus for the budget outlook, while cheap mortgages will keep housing affordable.
Perhaps the most important factor keeping the expansion on track will be the remarkable performance of inflation. Producer prices fell 0.4% in August, and consumer inflation remains below 2%. Commodity prices are in a deflation spiral, while nonoil imports in August were 4% cheaper than they were a year earlier. Extremely low inflation gives the Fed leeway to cut U.S. rates as a way to rescue overseas economies.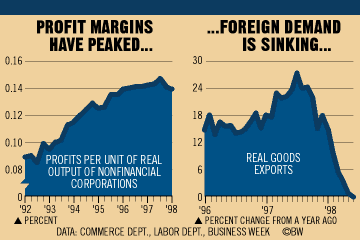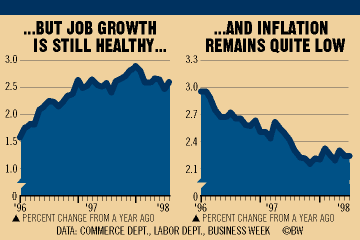 Against the fundamentals of solid job growth, low inflation, and low interest rates, the Starr Report would appear to be a small burr in the economy's backside. The danger is if the Republican Congress pursues the scandal all the way to impeachment. With the President under siege and a preoccupied Congress, the ensuing political vacuum could lead businesses and consumers to delay spending plans until they see how the dust settles on Capitol Hill.
Until now, Clinton's greatest success has been to preside over an unprecedented economic expansion. But if the scandal and a protracted impeachment investigation lead to a drop in demand--and a real economic downturn--it would appear that Clinton's own foibles would be the straw that broke that expansion's back.
Before it's here, it's on the Bloomberg Terminal.
LEARN MORE