Australia: Avoiding The Asian Flu So Far
While much of the Pacific Rim is in recession, Australia appears stable. Growth is slowing, but the latest data on business confidence, consumer spending, and job growth suggest that the Aussie economy will keep expanding into 1999. Perhaps that's why Prime Minister John Howard has called a general election for Oct. 3--six months early.
Real gross domestic product grew a larger-than-expected 0.9% in the second quarter from the first. That puts GDP 3.9% above its year-ago level, aided by a surge of consumer spending and hefty inventory building. Strong domestic demand will offset some of the drag coming from trade. Business confidence rose in the third quarter, with better outlooks for exports, orders, and investment plans. Consumer confidence increased 1.3% in August, while retail spending in July rose 2.6%.
Consumers can increase their spending because job prospects are improving. Companies added 13,200 jobs in August, and hiring is growing 2.7% from the year before, the fastest rate in almost three years (chart). The jobless rate, though, remains stubbornly above 8%, as it has for almost all of the past eight years.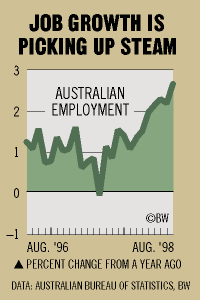 But the falloff in Asian demand for Australian exports, especially commodities, will slow the economy later on. On Sept. 8, the Treasury Dept. said that real GDP growth will ease to 2.75% over the next year, down from its May forecast of 3%. The slowdown could cut the expected fiscal surplus to zero, but it will also hold 1999 inflation below 2%.
An outlook of steady growth and quiescent inflation is why the Reserve Bank of Australia has signaled a "wait and see" monetary policy. "Output is growing at a moderate but below-trend pace," said the RBA's quarterly economic report. The RBA's key concern now is the Australian dollar, which has plummeted 22% against its U.S. counterpart. The Aussie dollar's slide and falling commodity prices are significant blows to the economy. But given the Pacific turmoil, Australia's situation could be much worse.
Before it's here, it's on the Bloomberg Terminal.
LEARN MORE