U.S.: The Engine Is Slowed But Not Stalled
A profits recession and slumping stock prices take growth down a notch
After a bone-crushing drop in the U.S. stock market amid another round of global turmoil and poor profit news, it is becoming increasingly obvious that prospects for the U.S. economy are now dimmer than they had been. Many forecasters are lowering their sights on economic growth, and recession worries are even starting to crop up.
At this point, recession talk is far too hasty given still-strong labor markets, record low long-term interest rates, and benign inflation. However, it is clear that the economy is getting hammered on a number of fronts that are interrelated and have recently begun to feed on each other. In particular, three developments argue that U.S. growth will slip to a pace of about 2% in coming quarters, after zipping along at nearly 4% for two years.
First, the 19% plunge in the Dow Jones industrial average from its July 17 peak to the dramatic 512-point tumble on Aug. 31 will hit confidence and spending decisions of both households and businesses. Even with a recovery of 288 points on Sept. 1, the Dow is still down 16% from its high. Up to now, wealth gains from ever-higher stock prices had nourished consumer outlays, especially home demand, and cheap equity financing has been a key prop under capital spending. Now, those supports are cracking.
Second, the new round of global market mayhem, led by Russia's debt default and growing perceptions of a world leadership crisis, will very likely constrict world economic growth another notch. That means the trade deficit may well be a drag on U.S. growth throughout 1998 and into 1999.
THIRD, AND MOST IMPORTANT, one sector of the U.S. economy is already in recession--profits. Government data from some 20,000 companies show that earnings of nonfinancial Corporate America are in a decline that is already close to the one that occurred during the 1990-91 recession, and the squeeze on margins is severe (chart). Weaker profits, along with souring stock prices, are a double hit for capital spending.
What's more, the problem with profits runs much deeper than Asian and other global factors. The main squeeze on earnings is from higher labor costs that are outstripping companies' ability to raise prices, and that pressure will not let up any time soon. That could mean more trouble for Wall Street. Stock investors who believe analysts' expectations that earnings will rebound may be sorely disappointed when the third- and fourth-quarter earnings seasons roll around.
The Commerce Dept.'s roundup of second-quarter corporate profits shows that earnings, adjusted for inventory valuations and the difference between tax-based and replacement-cost accounting, fell 1.1% from the first-quarter level, and they are down 2.5% from their peak in the third quarter of last year. That was the weakest three-quarter showing in five years--at a time when gross domestic product has been increasing at a 3.4% clip. If earnings are falling in that kind of growth climate, what's going to happen when the economy slows substantially in coming quarters?
MOREOVER, THE EARNINGS RESULTS would have been worse without the excellent performance of financial companies, reflecting recent boom times on Wall Street. Second-quarter profits at financial companies were up 7.9% from the third quarter of 1997, but earnings at nonfinancial businesses--72% of the total--were down 4.4%. From here on, though, finance companies will also get hit. In addition, Commerce said that second-quarter weakness among nonfinancial business was not confined to export-sensitive manufacturers but also included service-sector businesses such as transportation and public utilities.
The biggest factor weighing on profits is labor costs (chart). Because of this economy's extremely tight job markets and low inflation, real compensation has accelerated to a pace that even good productivity gains cannot offset. As a result, unit labor costs in the nonfarm sector are up 2.4% in the past year, while prices are up 0.8%. That's the widest discrepancy in eight years, and it means, by definition, that profit margins are under severe pressure. The trouble is, that squeeze will not let up until labor markets ease, and economic growth of 2% isn't slow enough for that to happen quickly.
THE DROP IN PROFITS by itself is troublesome, but what makes matters worse is that profits, the stock market, global markets, and world growth are now so intertwined that weakness in one feeds off and into the others.
This vicious cycle is behind the downward revision to both U.S. and world growth. Economists at J.P. Morgan & Co. have trimmed their forecast for 1998 global growth to 1.5%, from 1.8% on July 1. They're pegging 1999 growth at just 1.7% now, down from 2.3%. And on Sept. 1, the Organization for Economic Cooperation & Development also said it would likely cut its forecast for global growth.
Slower world growth will further pummel U.S. exports and widen the trade deficit. Already, export orders are down sharply, says the National Association of Purchasing Management. The NAPM reports that its industrial-activity index edged up to 49.4% in August, from 49.1% in July. But the index remains below the 50% mark that indicates that the factory sector is declining. A big reason: Export orders fell to the lowest level in the 10 years of data-gathering (chart).
Uneasiness about the global outlook is fueling the current bearish run on Wall Street. And collapsing stock prices, with their attending drop in household wealth, will rein in spending gains in coming months.
Luckily for consumers, job and income growth don't appear to be in any near-term danger. So consumer spending isn't likely to decline outright in any quarter. True, real consumer spending fell 0.4% in July, but that mostly reflected a giveback in motor-vehicle purchases after the end of generous rebates last spring. Real disposable income in July increased a solid 0.3%.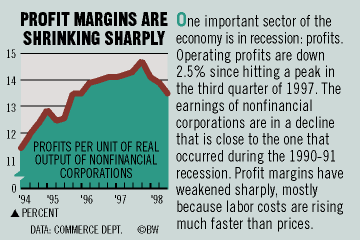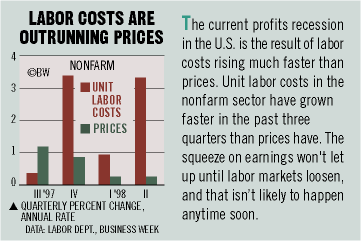 Still, housing and other big-ticket items may take hits if the value of stock portfolios continues to shrink. New single-family homes in July sold at an annual rate of 886,000, a small 1.6% drop from June's record 900,000. And the supply of unsold new homes remains quite low. That suggests that homebuilders will remain busy in the fall--the pace just won't be as frenetic as it was this spring and summer.
With growth in each sector of the economy likely to lose some steam, the overall outlook clearly has to be brought down a notch. Could the slowdown turn into something more serious? For now, that's premature--but not impossible. Depending on the interaction of profits, the stock market, and the global economy, the risk of a sharper slowing cannot be ignored.
Before it's here, it's on the Bloomberg Terminal.
LEARN MORE