Europe Makes Way For Ge Capital
It's a real challenge to the Continent's banks
Not far from the center of Leeds in northeastern England is Burton Business Park, an industrial complex that dates from the 1930s. With loading bays that look like row houses and other antiquated flourishes, it seems a relic. But the 1,000 or so people working on the site for General Electric Capital Services Inc. are doing their bit to reshape Europe's economy.
At the beginning of the decade, GE Capital Services was a nonentity in Europe. Now, it is hard to avoid. If you apply for a Harrods store card in London, the Leeds operation will approve it. If you buy a Peugeot car in France, your purchase will likely be financed through Sovac, a lending company that GE Capital bought in 1995 for $1.5 billion. GE Capital can sell you health insurance for your dog through Pet Protect, a 1996 British acquisition. And it can provide a company with everything from a fleet of cars to shipping containers, modular office space, and time on a communications satellite.
OUTFLANKED? Stealthily, General Electric Co.'s financial wing has become one of Europe's biggest nonbank finance players. With footholds in some 20 business lines and in 21 European countries, it is already a leader in fleet and aircraft leasing and in consumer finance. So far, GE Capital Europe has grown through acquisitions, buying up more than 100 European companies or units with more than $30 billion in assets in the last few years.
That may have been the easy part. With the single currency approaching, the company is under pressure to integrate its businesses into an efficient, Europewide empire. If it succeeds, Europe's big banks could find themselves seriously outflanked. "We need to figure out the appropriate level of consolidation," says Daniel W. Porter, the new managing director of GE Capital Europe.
GE Capital is already hugely profitable, kicking in about 40% of GE's $8.2 billion in earnings last year. Europe has been a major contributor to its overall growth, with total earnings of $705 million in 1997, up 33% from 1996. But as Europe becomes integrated economically and shifts more toward services, the platforms GE Capital has established could become foundations for even more power. A few businesses, including equipment leasing and reinsurance, are already run on a Europewide basis. Others, such as auto and consumer finance, are likely to benefit from broad consolidation in the future. And GE Capital could realize big gains from merging back-office operations across Europe, perhaps across business lines.
Strategically, GE Capital has taken the same course in Europe that has brought it success in the U.S.--snapping up unglamorous businesses in leasing, insurance, or consumer credit. The company puts in new management, if needed, and introduces more efficient technology and work methods. It combines companies in similar business lines to gain economies of scale, and it sets tough targets for its managers.
And in the mid-1990s, Europe was a natural hunting ground for GE Capital. Prices were lower than in the U.S., and European finance was much more fragmented. There were big gains to be made by reorganizing businesses on a Europewide scale. It was a bet, says CEO Gary C. Wendt, that "Europe would follow the U.S. and consolidate economically."
That bet turned out to be right on the money. But prices for Western European assets have since risen. In the future, a bigger share of growth will have to come from improving GE Capital's existing businesses, not just buying more.
Like Europe's banks, GE Capital is looking for ways to cut costs and position itself for the euro. In Ireland, it is setting up a Europewide multilingual center at Shannon to handle collections for all European consumer finance--thus combining the work now being done in several locations. But it is just as interested in boosting revenues. On a tour of the Leeds facility, Andrew K. Haste, who runs the business, points to a group of telemarketers selling home loans or insurance to people who have lost their credit cards or moved. "We are introducing more and more common packages across consumer businesses," he says.
There have been some hiccups of late. Porter acknowledges that the first quarter was relatively flat. GE Capital was embarrassed also when its preliminary bid for Groupe des Assurances Nationales, a state-controlled French insurer, was rejected for being an hour late.
Another setback was the May departure of Porter's predecessor, Christopher Mackenzie, a British investment banker who had spearheaded the acquisition drive in Europe since 1994. Mackenzie was offered a promotion to head GE Capital's global acquisitions but left to join the New York buyout firm of Clayton, Dubilier & Rice Inc. Sources familiar with the situation say Mackenzie had argued with Wendt that a Europe-based head was needed to integrate the business lines. At present, most unit chiefs report to executives in the U.S. Mackenzie also tangled with headquarters in Stamford, Conn., over who should get credit for GE Capital's European successes. Wendt says that Mackenzie left to cut his travel schedule. Mackenzie declined to comment.
Now, Porter, a Californian, leads a team of 30 young merger specialists working in a nondescript office building in London. He acknowledges that the pace of acquisitions in Western Europe is likely to slow. But he sees big opportunities in Eastern Europe and in Greece, Italy, Portugal, and Spain, which are not as well covered by investment bankers.
SUBTLETY. In Eastern Europe, GE Capital's strategy is to buy struggling banks and retool them into distribution networks for its products. That is what it did with Budapest Bank Ltd., which it bought in 1995. Wendt says he has the same plans for Agrobanka Praha, a Czech bank that the company acquired at the end of June.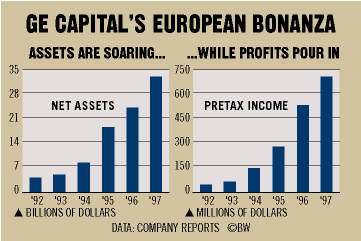 Porter's approach in Southern Europe is more subtle. With the single currency coming, he says, banks there fear being swallowed up by giants such as Deutsche Bank or the Netherlands' ING Bank. He thinks GE Capital can make inroads as a less threatening partner. It could take over management of a bank's leasing or insurance business, then build it up. Porter expects to announce such a deal soon.
Porter also says that GE Capital could gradually combine businesses on a much larger scale. It has already started: British, Scandinavian, and German reinsurance businesses, for instance, have been consolidated and are run from Munich. But "it's not clear how far you can take consolidation," says Porter. Knowing GE, the finance giant will probably find ways of taking the concept pretty far.
Before it's here, it's on the Bloomberg Terminal.
LEARN MORE