The Strong Dollar: Too Much Of A Good Thing
Companies and markets see the downside of a powerful buck
When the Asian financial crisis first sent the U.S. dollar climbing last fall, Wall Street and Washington braced for trouble. The fear: A resurgent greenback would slam U.S. exports, erode corporate profits, and crimp economic growth. But instead of being a curse, the strong dollar has been a surprise blessing--holding inflation in check, attracting billions in foreign investment, driving down interest rates, and giving U.S. companies extra buying power overseas. But the good news may be coming to an end.
Call it the delayed-dollar effect. With the greenback surging 10% against the Japanese yen just since May, to an eight-year high, American exports and profits suddenly look vulnerable to big hits this year. Indeed, the dollar has risen so sharply against the yen that it has sent other global currencies slipping, from Canada to Australia. That forced the Clinton Administration on June 17 to engineer its first joint intervention with Tokyo to prop up the yen.
Although the mass government purchase of yen may have braked the dollar in the short term--and was enough to spur a 164-point Dow rally--U.S. executives fear the effects will not last and the dollar will resume its climb against all currencies. Even at current levels, the negative effects of a strong dollar are beginning to outweigh the benefits. Just for starters, the U.S. trade deficit is expected to balloon to a record $250 billion this year, more than double the 1997 tally. And the same day the yen rescue was disclosed, the Federal Reserve put out its monthly "beige book" survey of regional economic activity, which highlighted a drop in West Coast lumber and computer-component exports to Asia, reduced demand for manufactured goods from New England, and increased competition from low-priced Asian textiles in the Southeast.
Already, multinational companies ranging from 3M to Motorola to Western Digital are warning that second-quarter profits are being hammered by a one-two punch from a strong dollar and weak Asian demand. Charles L. Hill, research director at First Call Corp., predicts that second-quarter profits will rise by less than half the 12.9% growth rate analysts had forecast at the beginning of 1998, with the robust dollar a factor. "The biggest impact on earnings will come in the third quarter," he says.
RATE DROP. Why didn't the surging greenback threaten the U.S. economy sooner? At first, the collapse of Asia's currencies unleashed a flood of foreign investment seeking the safety of U.S. markets. The result has been a drop in long-term interest rates--yields on the 30-year Treasury fell below 5.6% for the first time on June 15. Louis B. Crandall, chief economist at R.H. Wrightson & Associates, estimates that Asian investments have accounted for most, if not all, the drop in rates this year.
Lower borrowing costs have fueled a surge in housing and autos and triggered a rush of consumer and corporate refinancings. Moody's Investors Service says U.S. companies issued $146.5 billion in debt in the first five months of 1998, up from $88.2 billion in the same period last year. "Corporate bond issuance is going through the roof," says Moody's Managing Director John Lonski.
And U.S. companies are seeing the lowest prices for commodities such as oil in years--which helps their bottom lines. Consider Chrysler Corp., normally quick to squawk about a falling yen. Lower prices for commodities such as rubber and steel "have allowed us to maintain our margins," says Chrysler chief economist Van Bussman. What's more, Chrysler's savings from purchases of engines and other components made in Japan have more than offset the lost vehicle sales there. "The drop in the yen has actually helped us," Bussman says. "Asia has been close to a wash so far."
But the good news won't last. Bussman predicts that "the negative effects of Asia will hit us later this year." Soon, he fears, Japanese auto makers will begin to use their growing cost advantage to cut price tags. Other U.S. auto makers have the same fear. "We have a beleaguered Japanese industry and a very weak economy," says Ford Motor Co. CEO Alexander J. Trotman. "We all know what that means: They load up the boats and ship."
"WORST-CASE SCENARIO." While Detroit is fretting about stiffer competition from imports, other U.S. manufacturers face tough times holding on to their share of export markets. The Manufacturers Alliance predicts that if the Asian situation worsens, it could cut deeply into U.S. output. Even with a dollar at 128 yen, the alliance predicts that shipments of engines and turbines would fall 6% in 1999. Electronic parts and communication equipment would be 7% lower, and aerospace would drop 4%. "In mid-April, people were getting fairly sanguine about the situation," says Alliance economist Jeffrey F. Werling. "Now, we are moving toward the worst- case scenario. The real danger of the weaker yen is that it will bring down other currencies."
Charles Machine Works Inc. in Perry, Okla., which makes drilling equipment for utilities, also had high hopes for its exports to Asia earlier this year and planned to increase its distribution network in the region. But with the company now projecting an 80% drop in Asian sales, "we've definitely got the brakes on," says Marketing Director Kurt C. Andrews. "It's kind of made Europe look good to us again."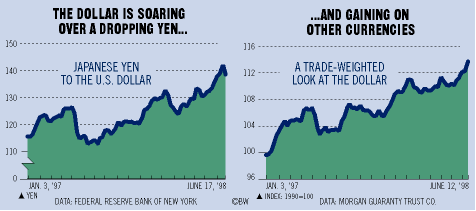 Europe's economies are building a head of steam, and although the dollar has strengthened against European currencies, the rise has been relatively small. In the past year, the dollar is up 7% against the Deutschemark, and some economists think the greenback will give back its gains over the next 18 months. "We do not expect this dollar strength to be sustained," says Thomas Mayer of Goldman Sachs & Co. in Frankfurt.
Still, the outlook in Europe isn't so bright as to mask the growing gloom the almighty dollar is causing elsewhere in the world. American business is about to discover the consequences of too much of a good thing.
Before it's here, it's on the Bloomberg Terminal.
LEARN MORE