Eavesdropping On The Baby To Be
MEDICAL & SCIENTIFIC PRODUCTS: GOLD Continuum of Care Designers: Anderson Design, Corometrics Medical
The stress of a high-risk pregnancy can be extraordinary: A woman having complications from diabetes or from carrying multiple fetuses can spend excruciating weeks bedridden or in the hospital. And sometimes the bulky high-tech equipment designed to keep tabs on a mother's and baby's health only adds to the anxiety.
One of this year's gold winners in the medical category, however, resembles the nonthreatening, ubiquitous infant monitors used in millions of homes. But this in-home device is for babies as yet unborn. Its soft, pillowy casing and small powder-blue buttons hide a fully functional palm-size computer charged with a life-or-death mission: collecting crucial medical information, such as fetal heartbeat and maternal blood pressure, from at-risk moms and transmitting it to a health-care provider in time to stave off tragedy.
The Continuum of Care fetal monitor base station was designed for Corometrics Medical Systems Inc. by Anderson Design of Plainville, Conn. The device awaits regulatory approval. A small ultrasound sensor belted around the woman's stomach picks up the fetal heartbeat and sends data to the base unit from up to 150 feet away. The base is hooked up to a phone line and periodically transmits the data.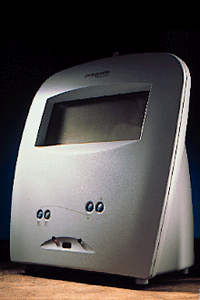 Some women might even be able to take the setup to work. Wherever the mom-to-be is, the Continuum of Care may cut down on panicky trips and calls to the doctor's office to see if discomforts are a sign of bigger trouble. That, in conjunction with a reduction in premature births, could deeply cut medical costs.
The Continuum is easy to use. There are only four color-coded buttons on the device's face and an LCD display that offers menus for different tasks as well as audio cues, telling the woman to take medication, for example. Light colors allow the unit to fade into the background like a digital clock on the bedstand, attracting only the mom's attention--and getting a problem pregnancy closer to a good outcome.
Before it's here, it's on the Bloomberg Terminal.
LEARN MORE