Coventry Aims To Snare Airlines
Not only is Coventry Industries (COVN) a microcap stock but it is also a maker of such prosaic items as fire sprinklers and power-transmission systems. Soon, however, the company could become an airline. According to several investors, Coventry is in talks to acquire three small, low-fare carriers--among them Kiwi International Holdings, parent of Kiwi International, which flies from Newark International to such cities as Atlanta, Boston, Chicago, Las Vegas, Orlando, Palm Beach, San Juan, and Tampa.
With Kiwi, Coventry's revenues will jump from an estimated $20 million this year to about $100 million, according to one investor. Manny Shulman, president of Shulman Associates, a merchant bank in Florida, says if the deal materializes, Coventry will convert Kiwi into a chartered airline, concentrating on a few cities, such as Las Vegas, that have heavy traffic. Coventry's two other targets fly routes in the South, says Shulman. Those two have combined revenues of $35 million, he says.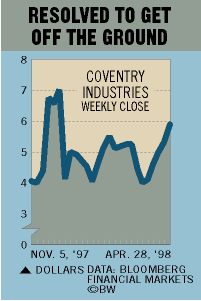 Kiwi's greatest asset, he notes, is its experienced operational capability. "It has a perfect five-year safety record," he adds, and has consistently been ranked near the top in consumer satisfaction. Twice grounded by the Federal Aviation Administration for rule violations, Kiwi was saved from bankruptcy in July, 1997, when it was acquired by an investor group headed by Charles Edwards. Coventry's stock, which hit a high of 12 a share in April last year, closed at nearly 6 on Apr. 29, 1998.
Currently in the red, partly because of a restructuring, Coventry is expected to earn about 75 cents a share next year--if Kiwi is acquired. Coventry Chairman Robert Hausman declined comment.
Before it's here, it's on the Bloomberg Terminal.
LEARN MORE