Buyback Fever Hits Europe
Continental companies are snapping up their shares
Shareholder meetings may not be the most exciting rites of spring. But as the meeting season gets under way, European investors can expect a special frisson. In hotel ballrooms across the Continent, CEOs will propose buying back some of their companies' shares, often for the first time ever.
In the U.S., buybacks are taken for granted. In Europe, they represent a milestone on the road to Anglo-Saxon-style capitalism. Buybacks can boost per-share earnings and stock prices, lower capital costs, and signal that managers have investors' interests in mind. Until recently, such considerations didn't loom large in CEOs' minds. Now, as an equity culture takes hold on the Continent, blue-chip companies are lobbying for legislative changes to make buybacks easier. "For Continental Europe, this is quite staggering," says Matthew Norris, a Credit Suisse First Boston analyst in London.
PLENTY OF CASH. Germany is likely to legalize buybacks in July, and France and the Netherlands are expected by yearend to relax tax rules that limit their use. But even before these changes take effect, dozens of companies say they'll ask shareholders to approve buybacks over the next 12 to 18 months. Investment bankers figure the value of buybacks in Britain and the Continent could more than double this year, to $30 billion, and reach $50 billion in 1999. The cash inflow could further bolster bourses already energized by next year's scheduled launch of the euro.
European corporations have plenty of dough for buybacks. Downsizings and restructurings have left them with more cash than they've had since 1986. Of 391 companies screened by Morgan Stanley Dean Witter & Co., 27% had a net cash balance. Sweden's Volvo, for instance, has $2.2 billion on its balance sheet and is lobbying for changes in tax laws to let it do buybacks in 1999.
Companies used to invest spare cash conservatively or plow it into acquisitions. But many takeovers went sour. Now, competitive pressures and demanding investors are forcing treasurers to pay attention to returns on capital. Low European short-term interest rates, now around 3.5%, make it difficult to earn much on cash. But long-term rates are lower than they've been in a generation, making it cheap for corporations to sell debt. Companies can shrink their cost of capital by reducing the number of shares outstanding and issuing bonds. Max Dietrich Kley, CFO of German chemical maker BASF, notes that "in comparison to DuPont and Dow Chemical, our equity ratio is just too high." So BASF on May 19 will propose buying 10% of its 622 million shares and lowering its equity from 49% of assets to 40%.
A PATTERN. Two other German chemical makers, Schering and SGL Carbon, also are seeking shareholder approval for buybacks. The overcapitalized European oil industry is another sector ripe for repurchases. In the U.S., Exxon Corp. buys 5% of its shares every year, and analysts expect the same pattern to emerge across the Atlantic. France's Elf Aquitaine plans to buy back as much as $422 million worth of shares in 1998, and Royal Dutch/Shell Group has been lobbying the Dutch government to eliminate its punitive tax treatment on repurchases. Like the U.S., Britain already taxes shareholder profits from buybacks at favorable capital-gains rates. The measure likely to pass in Germany will exempt buyback proceeds from taxes on shareholdings of more than six months.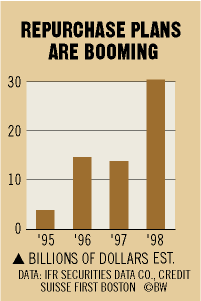 Even in Britain, where consolidation, restructuring, and the shareholder culture are all more advanced than on the Continent, the elimination of withholding taxes on dividends and other distributions in April, 1999, could further enliven the buyback scene. British companies announced or authorized $8.3 billion worth of repurchases in 1997, and Credit Suisse First Boston expects them to reach $22 billion in '98. WPP Group PLC, the advertising giant, will repurchase about $83 million worth of shares this year, and plans to buy an additional 2% to 3% of its equity annually. Wassall, GEC, and Airtours may return cash to shareholders. It's no wonder annual meetings will be so exciting this year.
Before it's here, it's on the Bloomberg Terminal.
LEARN MORE