Watching Sunrise For Golden Rays
Shares of Sunrise Medical (SMD) are just what money managers Mark Fife and Gregg Hymowitz hanker for: The company is in the midst of a restructuring, after disappointing the Street for two years. Its stock, trading at 36 in early 1995, tumbled to 13 in January, 1998. That's when Fife and Hymowitz, through their Entrust Capital, started buying in. Why?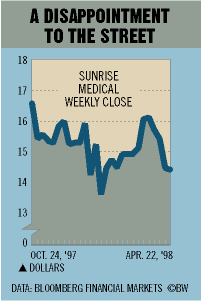 Value investors Fife and Hymowitz find Sunrise attractive partly because they figure the company, which makes wheelchairs and power-lift chairs, has seen its worst and is heading toward broadening margins and recouping lost earnings. After losing $40 million, or $2.17 a share, in 1996, Sunrise earned $10 million, or 55 cents, last year. Fife sees earnings of $1.10 in the year ending June 30, 1999 and $1.35 in 2000.
So Entrust Capital upped its stake to 11% by mid-April. The stock has since edged up to 14. Fife expects the price to double in two years.
Entrust has urged Sunrise to consider strategic alliances and to add outside directors--"steps all aimed at maximizing shareholder value," says Hymowitz. One possible move: sell some assets, such as its unit that makes bath-safety fixtures, and do acquisitions of high-margin businesses. In April, Sunrise acquired Sentient Systems Technology, a leader in making devices that help persons with speech disabilities.
Before it's here, it's on the Bloomberg Terminal.
LEARN MORE