U.S.: In The First Quarter, El Nino Ruled
It blessed Eastern consumers and builders and cursed the ravaged West
What a winter. In some U.S. states, balmy weather enabled consumers to shop with gusto. But in other regions, floods and ice storms caused billions of dollars in damage. The warm weather pushed homebuilding to a 10-year high but caused energy use to take its biggest plunge in eight years.
Of course, weather wreaks the most havoc on the economy during the winter. But usually, the effect comes as a drag from blizzards and ice. In this year of El Nino, the reverse happened. One of the warmest and driest winters in the East pulled forward activity that would normally happen in the spring at the same time that the fallout from Asia's financial crisis began to slow exports (chart).
So when the Commerce Dept. releases its initial look at the first-quarter gross domestic product on Apr. 30, the report will most likely show that consumer spending set a sizzling pace, followed close behind by residential construction. Businesses invested heavily in machinery, but nonresidential building had another weak quarter. And inventories accumulated at a slower pace than in the fourth quarter. Most important, a steep deterioration in net exports exerted a colossal drag on the economy.
Add the sectors together, and real GDP grew at an annual rate of around 3% last quarter. That's down from 3.7% in the fourth quarter, but the pace suggests an economy growing far above its noninflationary speed limit. Moreover, the winter spurt means that the economy now is slowing to a more subdued pace. That's especially likely since consumers will probably take a breather after their winter bonanza and because the impact from Asia is becoming more evident.
INDEED, THE ASIAN CRISIS, along with seasonal-adjustment problems, explains why the first-quarter's trade deficit widened so sharply. In February, the trade gap for goods and services rose to $12.1 billion, from $11.6 billion in January. Exports fell 0.8% in February, while imports dipped just 0.2%.
Exports to Asia weakened sharply. Goods shipped to the entire Pacific Rim were down 6% in the first two months of 1998 vs. a year ago. Exports to Japan fell 7.6%, and shipments to Hong Kong, Korea, Singapore, and Taiwan plunged 13.8%.
First-quarter trade data also suffer from seasonal-adjustment problems that tend to cut into export growth. As a result, net exports have widened in every first quarter of the past five years. Depending on what Commerce estimates for the March trade gap, real net exports last quarter could show a deficit as high as $200 billion, from the $159.1 billion gap of the fourth quarter. The deficit would far surpass the existing record of $174 billion set back in 1986.
The widening could subtract as much as three percentage points from GDP growth. That's the result of imports satisfying a greater share of surging U.S. demand. In fact, most of the drop in imports in February reflected a drop in prices, especially for oil, not in volume. For instance, the dollar value of petroleum shipments plunged 26.7% in January and February from a year ago. But that was because of the $7.50 per barrel fall in price. The number of barrels shipped rose 12.3%. After adjusting for prices, total real merchandise imports actually increased 1% in February and were up 18.6% from a year ago.
A LARGE AMOUNT OF THOSE IMPORTS probably ended up in warehouses. The monthly data on business inventories suggest that inventory accumulation last quarter was slower than at the end of 1997, but not by very much. Smaller inventory additions subtract from GDP growth, and last quarter's slowdown was probably intentional. In the fourth quarter, the inventory gain was much faster than the increase in final sales of goods. Slower stockpiling in the first quarter probably brought the two growth rates better in line.
For the second quarter, inventories may well slow further. Goods producers are already adjusting output schedules downward to allow for less Asian demand (chart), so they won't need to add much to inventories.
El Nino and Asia slowed overall industrial production last quarter. Utility output fell 12.2%, which helped to hold total industrial activity flat. Factory production alone fell 0.2% in both February and March. For the quarter, factory output grew at an annual rate of 1.8%, one-fourth of its fourth-quarter pace.
A drop in car production accounted for a sizable chunk of the slowdown, but nondurable consumer goods were also weak. So was output of low-tech business machinery, the most likely casualty of Asia. Computer makers remained busy, suggesting that U.S. investment on business equipment rose last quarter.
Looking ahead, though, capital-spending decisions follow sales expectations. And if companies are seeing order cancellations from Asia, investment will slow. But it won't decline. The need to boost productivity will keep U.S. companies buying high-tech machinery.
THE BIG WINNERS among manufacturers last quarter were the makers of home-related items such as furniture, appliances, electronics, and carpeting. Output for those goods grew by 11.7%, from 3.8% in the fourth.
The acceleration reflects the current housing boom. Housing starts slipped 2.8% in March, to an annual rate of 1.59 million, but that followed a jump of 5.8% in February. For the quarter, builders started construction on nearly 1.6 million homes, the best quarter in more than a decade (chart). The increase can be credited mostly to El Nino. Starts grew strongest in the Northeast and Midwest; they fell in the West.
With so many new homes already begun, starts will fall back in coming months. However, mortgage rates remain low, and consumer fundamentals are strong, so the slowdown will not be large. The latest survey of homebuilders shows that they remain very optimistic in April, the usual start of the spring building season.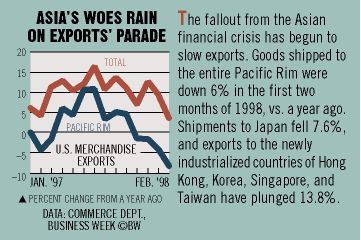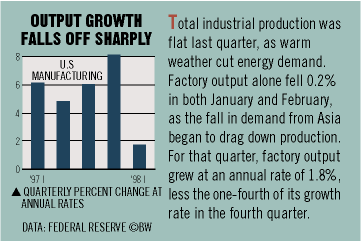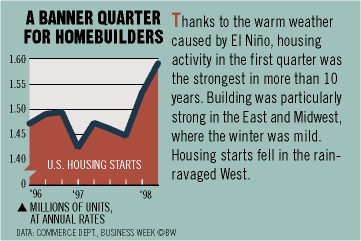 Solid consumer fundamentals also propelled the 6% or so surge in real consumer spending, the biggest piece of the first-quarter puzzle. But again, the weather was a key factor as usually home-bound consumers went out and shopped. Households are unlikely to increase their spending at such a furious pace this quarter. But they're not retrenching, either. Weekly retail reports show that store sales in the first two weeks of April did well, helped by a late Easter.
More of those Easter bonnets, though, are being made overseas. It's another sign that--no matter how the Pacific jet streams are blowing--foreign trade is becoming a larger player in the U.S. economy. And the effects are both good and bad. Over the past two years, falling import prices have enabled this expansion to continue without any signs of harmful inflation. Now, though, the U.S. is beginning to feel the bad, as fewer exports to Asia start to exert a drag on production.
Before it's here, it's on the Bloomberg Terminal.
LEARN MORE