Toyota: Overdue For A Tune Up?
Japan's No.1 carmaker is continuing to lose market share at home--and it's getting rear-ended in Asia
The executives of Tokyo Toyota, a top Japan dealership, are getting desperate. Nothing is moving fast enough in their 40 showrooms to cover costs and produce even a minuscule profit. Not Toyota's new $31,000 Land Cruiser. Not the Toyota $29,000 Estima minivan. Not the Toyota $19,000 Prius hybrid electric car. "We cannot go on like this," says Yoshio Tashiro, general manager of corporate planning at Tokyo Toyota. "If we had a real hit, things might be different. But we cannot be profitable."
If something is wrong at its dealerships, then could something be amiss at mighty Toyota Motor Corp. as well? Toyota is still a terrific company, and it may well report that profits jumped 15%, to a record $3.4 billion on sales of $85 billion, for the year ended Mar. 31. But those profits are not coming from sales in Japan, nor from the shell-shocked car markets of Asia. Instead, it's American buyers who are holding up the bottom line, as well as the extra boost to profits that a weak yen brings. Without the currency benefit, net profit for 1997 would probably be 17% lower. President Hiroshi Okuda has grand expansion plans for the company. But Toyota now has to work on the basics in its home market before these current weaknesses turn into major problems.
ELUSIVE PROFITS. The biggest issue facing Japan's No.1 carmaker is its drop in Japanese market share. In 1997, for the first time in a decade, Toyota sold less than 2 million vehicles in Japan over a 12-month period. Worse, its Japanese market share failed to reach 40% for the third year in a row (chart). Instead, its share slid further, to 39.2% from 39.8% the previous year, according to the company. Company executives now concede that Toyota will be lucky to sell 2.3 million vehicles a year in Japan by 2000, below Okuda's ambitious goal of 2.5 million.
More alarming is the earnings picture. Toyota as a whole still makes money in Japan, because of its lucrative parts business. But, says Takaki Nakanishi, automotive analyst at Merrill Lynch Japan: "Toyota's domestic car business is not profitable." Toyota spent about $2.7 billion in 1997 on promotional efforts, such as dealer incentives, to move those cars. That's double the spending in 1990. Yet profits in car sales remained elusive.
Japan's worsening recession gets a lot of the credit for this poor performance. Total car sales dropped 20% in March, as consumers pinched yen and avoided all kinds of purchases. But Toyota has itself to blame as well. Rival Honda Motor Corp. has captured the imagination of younger buyers, with such models as the $8,000 Life minivehicle and the $15,000 Stepwagon minivan. Buyers under 40 are turned off by the stodginess of such Toyota sedans as the Mark II and the Crown. And Japanese consumers in general feel unexcited about the current Toyota lineup. Admits Kanji Kurioka, executive vice-president of domestic sales: "Toyota has failed to design cars that customers want to replace their older cars with."
The last thing Toyota wants is to develop the General Motors syndrome, with the next generation of buyers switching to rival brands. So it's spending billions more to muscle its competitors off the road and reclaim that 40% share. Toyota recently established a company called Virtual Venture Co. to pioneer a new line of vehicles specifically designed for Generation-X buyers. Over the next year or so, it will also launch 10 new car models in Japan. Toyota believes its best hope is a low-cost, "New Basic Car" subcompact with 1.0 liter engine. This will be the first Toyota vehicle specifically built to compete with minivehicles made by Suzuki Motor Co., Honda, and others. The minivehicle segment accounts for 20% of Japan's passenger-car sales.
BIG PROMOS. With some $23 billion in cash reserves, Toyota can afford big promotions for these new vehicles. It also wants different dealerships to promote different types of vehicles, so each distributor can concentrate its resources on one auto segment. But Toyota is also prepared to play rough with its dealerships. It has told its Japanese dealers that laggards might get their territories reduced.
In this environment, Toyota has to be thankful for the U.S., where it sold 1.22 million vehicles last year, about 25% of the company's worldwide total. It is investing $500 million to expand an Indiana facility that will open this fall. Lexus is doing well, and the company has high hopes for the new Land Cruiser, a redesigned T-150 pickup truck, and a new sporty coupe called the Solara. Says Lincoln Merrihew, an analyst at J.D. Power & Associates Inc. in Agoura Hills, Calif.: "There's no reason to worry about Toyota." The Toyota Camry, however, has lost the No.1 spot to the Honda Accord, and its sales dropped 29% in the first quarter, to 74,395. Yet the success of the redesigned Accord was expected, and Toyota figures Camry sales will pick up again soon.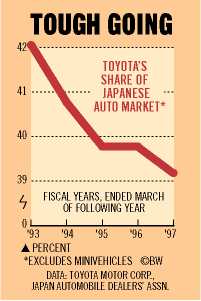 But even a good U.S. showing may not prevent a 7% drop in consolidated net profits for Toyota next year, according to Merrill Lynch. The markets in Southeast Asia, where Toyota sales are down 70% from the previous year, could take years to recover. "Our goal has become a bit far for us to reach," admits Koji Hasegawa, Toyota's director for Asia. Toyota believes it will take at least two years for its sales in Southeast Asia to return to pre-crisis levels. And the core Japanese market will continue to be tough. Toyota is obviously not in decline. But something needs fixing.
Before it's here, it's on the Bloomberg Terminal.
LEARN MORE