A Brighter Age For Microage?
The stock chart for MicroAge (MICA) is not for the weak-hearted. It shows steep drops, with shares falling from 30 in October to 10 on Jan. 22--creeping back to 13 on Mar. 31. Earnings at the integrator and distributor of info-tech products and services failed to meet the Street's expectations, and for the fiscal first quarter of 1998, MicroAge delivered the biggest blow yet: a loss of 28 cents a share, vs. projections of a gain of 36 cents. Predictably, many big shareholders headed for the exits. Enter the buyers on bad news.
These contrarians are armed with more than hopes for a turnaround. They're betting the company will split in two: One part will be its distribution business, which sells 20,000 hardware and software products to resellers worldwide. The other is the integration arm, which provides computing solutions to governments, corporations, and schools.
One California investment manager, who started buying after the price fell to 11, figures the two separate pieces would be worth more than MicroAge's current price. Why? If split, each could focus on what it does best, he argues. Others in the same business, he notes, trade at high price-to-sales ratios because they achieve good margins.
Given the margins on revenues that rivals achieve, the MicroAge distribution unit could earn some $50 million, or $2.50 a share, he figures. MicroAge's distribution business generated sales of more than $3 billion in fiscal 1997. So this pro reckons the distribution unit is worth 15 to 17 a share, based on the revenues ratios that its peers trade at. The integration operations, which accounted for sales of $1 billion, could be worth 15 a share, he adds.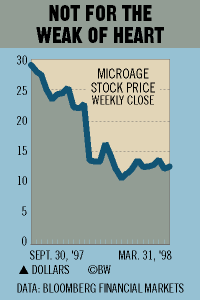 Analyst David Grossman of NationsBanc Montgomery Securities says there is "definitely a possibility" that MicroAge will split in two. MicroAge could either spin off or sell its distribution arm, with MicroAge retaining the integration operations. "The company is trailing its peers, and it looks very compelling for MicroAge to split to realize its full potential," says Grossman.
In February, management moved to divide its sales and services divisions into autonomous units with separate management, as part of a restructuring. Some view this as a step toward a split or spin-off. Chairman and CEO Jeff McKeever says MicroAge is "considering all financial options," including a spin-off or sale of its distribution business to enhance shareholder value.
Before it's here, it's on the Bloomberg Terminal.
LEARN MORE