Joe Plumeri: The Apostle Of Life Insurance
He runs Traveler's PFS with evangelistic fervor--and charging these prices, he has to
The moment Joseph J. Plumeri II bounds into the spotlight at the Philadelphia Convention Center, the crowd erupts in a raucous ovation. No doubt many of the 4,500 people on hand have caught his act before. Nattily attired in grey pinstripes with matching tie and pocket square, he plants himself center stage and opens his arms in a hey-look-me-over gesture. "He's a stud," someone shouts as Plumeri, a short, stocky 53-year-old, saunters stage right in super-slow motion. "It's a cool walk," he says, getting a big laugh. "I learned it in the old neighborhood."
That would be the blue-collar precincts of North Trenton, N.J., just 15 miles from here. The cool-walking demonstration ended, Plumeri explains how he stumbled into a career on Wall Street by taking a menial job at a brokerage house that he had mistaken for a law firm. He tells his tale with brio, working it for laugh after laugh. Finally, he lets the hilarity fade. "I tell you this because it's O.K. to be embarrassed, it's O.K. to have childlike enthusiasm," he says softly. Plumeri pauses and then looses a full-throated cry: "Don't live your life without having a dream. Otherwise, you've wasted it. O.K.? Are you with me?"
As the crowd roars its assent, Plumeri flashes a dazzlingly toothy grin, clenches one hand into a fist, and thrusts it over his head. Hail the conquering hero, returned home a multimillionaire!
When it comes to motivational speaking, the likes of Tony Robbins and Stephen R. Covey have nothing on Joe Plumeri. But unlike these marquee names of the self-help trade, Plumeri does not hawk books and tapes for a living. He took home at least $3 million in salary and bonus last year as a senior executive of one of America's largest companies, Travelers Group Inc.
Corporations don't come any more substantial than Travelers, a $27 billion financial-services giant that is one of the 30 stocks in the Dow Jones industrial average. But as chairman and chief executive of the Primerica Financial Services (PFS) division of Travelers, Plumeri runs one of the most eccentric--and controversial--operations in consumer finance. "This is not a company where you just work," Plumeri says. "You have to believe."
In some ways, belief in PFS would seem misplaced. Every year, the company, based outside Atlanta, recruits thousands of working folk--cabdrivers, schoolteachers, factory workers--into part-time positions in its sales force. Most sell a life-insurance policy or two and call it quits. Although PFS boasts one of the largest captive sales forces in finance, only 41% of its 80,000 sales reps have been with the company more than two years. Yes, you have to believe to make it at PFS, because the odds against success are so steep that logic argues against even making an effort.
But if the PFS sales force is volatile, it also is highly productive, even though PFS charges some of the highest rates around. Compulife, a widely used pricing service, ranks 20-year term policies by the premium charged per $500,000 of coverage. By it's reckoning, Old Republic Life Insurance offers consumers the best deal, at $375, while PFS's ranks 66th--next to last--at $775. (PFS is introducing a new 20-year policy, priced at $695.)
Nevertheless, last year PFS was second among all insurers in the face value of life policies sold, at $52.6 billion--all of it term insurance. Most insurers specializing in term depend on direct-mail solicitation and aggressive price discounting to attract buyers. But PFS employs an intensely personal approach--neighbor selling to neighbor across the kitchen table.
What's more, since Plumeri took over in late 1994, PFS also has generated sharply rising sales of such other financial staples as mutual funds, variable annuities, consumer and home-equity loans, and auto and homeowner's insurance (charts). "Whenever I need to feel better, I go down to Atlanta," says Sanford I. Weill, Travelers' CEO. "PFS is important to everything we do."
You wouldn't know it just from looking at the numbers. PFS's record $335 million in operating profits in 1997 amounted to just 10% of Travelers Group's total. But Weill sees PFS as the template for one of the most elusive ambitions of his long career as a corporate builder: to mold a diverse group of financial companies into a tightly woven, symbiotic whole--into a financial supermarket, in other words.
To this end, PFS doesn't just sell, it cross-sells. Almost every one of the financial wares it offers is custom-made for it by another Travelers subsidiary. This enables PFS's sister companies to tap into a market of lower-income customers while keeping the profits generated all in the Travelers family. As with term insurance, PFS's other offerings tend toward the pricey.
Although PFS unquestionably is on a roll, its continued success is by no means foreordained. In many ways, this remains a company in transition from a legacy of tumult and notoriety. And although Plumeri of late has won admirers inside and outside Travelers, he is an emotionally combustible man with a somewhat uneven track record of his own to transcend. "I am an emotional person with a lot of drive, and that has caused some problems in my career," Plumeri concedes. "But I come from the view that you've got to be yourself, for better or worse. And what got me where I am today was my emotion."
LUCKY MISTAKE. A third-generation Italian-American, Plumeri grew up in an ethnically mixed middle-class neighborhood in North Trenton. After graduating from the College of William & Mary with mediocre grades, he accepted the only job offer he got: teaching history at a high school in rural Pennsylvania. Plumeri quit after two years and, for lack of a better idea, enrolled in 1966 at New York Law School in lower Manhattan. He promptly went in search of part-time work and landed a clerking job at Carter, Berlind & Weill, the brokerage he mistook for a law firm. Plumeri took to the securities business with such enthusiasm that he soon dropped out of law school to make a career on Wall Street.
As Weill's little firm metamorphosed into Shearson Loeb Rhodes, Plumeri rose through its retail ranks. Admired as one of the firm's hardest-working and most market-savvy managers, he also was resented as a temperamental self-promoter. "I continually had to urge Joe to let others into the spotlight," says Hardwick Simmons, who was Plumeri's boss at Shearson and is now CEO of Prudential Securities Inc. "But he never did. He couldn't. When most people want to revive themselves, they take a vacation. Joe puts on a show."
When Shearson ran into serious financial trouble in the late 1980s, American Express Co. tightened its grip on the firm, which it had acquired in 1981. All of Shearson's top home-grown executives quit or were pushed out except one: Joe Plumeri, who in 1990 succeeded Simmons as retail brokerage chief. Even so, Plumeri fought constantly with the white-shoe investment bankers and AmEx smoothies who now controlled Shearson. "The clash in styles was surreal," says one senior AmEx executive. "Joe did a lot of yelling and shouting, a lot of chest beating."
Plumeri's ordeal ended happily in 1993 when Weill bought Shearson back from American Express and merged it into Smith Barney. The day before the transaction was announced, Weill summoned Plumeri to his Manhattan apartment and offered him the presidency of Smith Barney. "That was the most satisfying moment of my life," recalls Plumeri. "I cried--as usual--and I remember that Sandy shed a tear, too."
Plumeri only lasted a year in the job to which he'd aspired his entire career. In August, 1994, Weill abruptly removed him and made him a vice-chairman of Travelers (a title he still holds). Weill declines to comment, but Plumeri says that he was dismissed because he was generally uncooperative in dealing with fellow Smith Barney executives. "I was so intent on getting the job done that I eliminated the input of other people," he says, sounding more wistful than penitent. "If I'd done better at nurturing relationships, who knows how it would have turned out?"
After two months in career limbo, Plumeri was put in charge of PFS. As a multilevel marketing organization, PFS is closer in spirit and in structure to Amway than Allstate. Salaries are rare at PFS. Even full-time agents work strictly on commission and must cover their own expenses. Under PFS's commission system, agents are rewarded for building their own "hierarchies" by recruiting new reps to the force.
In fact, top-level PFS agents no longer need to do much selling because they get a piece of the commission on every sale made by their recruits as well as their recruits' recruits and so on and so on in a theoretically limitless, pyramidal progression. A few hierarchies have grown to gargantuan proportions. Ronnie Barnes, a former school teacher who was PFS's top-earning agent in 1997, at $3.1 million, lives in Tennessee and bestrides a hierarchy of 15,680 reps that stretches from Massachussetts to Hawaii. Meanwhile, at the bottom of the pyramid, reps come and go so fast that Atlanta may never even know their names. "This is a business you can't manage," says John Addison, a 16-year PFS veteran who moved up to president under Plumeri. "You gotta lead it."
Plumeri runs PFS in what might be called continuous campaign mode. He gives 10 to 20 speeches a week on average as he travels the country rallying PFSers in groups large and small. His Philadelphia appearance last August was just one stop in a 14-city tour of North America that culminated just before Christmas in a roof-rattling performance before 30,000 at PFS's annual convention in St. Louis. Plumeri also hosts his own monthly TV talk show, which is beamed from PFS headquarters by satellite to thousands of agents nationwide.
ATOM BOMB. As a showman-CEO, Plumeri is following in the footsteps of PFS founder Arthur L. (Art) Williams Jr., a self-described "country boy" from Georgia who began selling life insurance part-time while working as a high school math teacher and football coach. In 1977, Williams set up his own agency, A.L. Williams Corp., which hit the insurance industry like an atom bomb. By the mid-1980s, A.L. Williams had assembled a sales force of 190,000 and was writing new policies at the rate of $90 billion a year--double the volume of longtime industry champ Prudential Insurance.
How did Williams do it? For a start, he put A.L. Williams at an enormous tactical advantage by only selling term insurance in an era of galloping discontent with whole life, the predominant but more costly type of policy. (Whole life combines a death benefit with a savings account.) Second, Williams had a rare talent for inspiring working class folk to feats of fanatic salesmanship. His slogan--"Buy Term and Invest the Difference"--became the rallying cry of a populist crusade against the life-insurance Establishment. "When I take my last dad-gum breath," Williams famously declared, "I want to be kicking Prudential's butt."
Williams and his legions replaced tens of thousands of whole-life policies with term, thus depriving rival insurers of a king's ransom in future premium payments. The big life companies screamed foul, denigrating Williams' sales reps as ill-trained amateurs who used deceptive sales practices. Although many state regulators investigated A.L. Williams, the company escaped with only minor reprimands and fines.
Even so, observers were stunned when Weill bought a majority stake in A.L. Williams in 1988. Why would Weill, a much-admired figure in Corporate America, get in bed with a wild man like Art Williams? In truth, Weill was enamored not of Williams but of his sales force, which he saw as a unique pipeline into Middle America. Weill gradually shouldered Williams to the sidelines but did not gain full control until mid-1990, when word leaked that the FBI was investigating allegations that Williams had sabotaged a group of his agents who had defied his wishes and gone into business for themselves. Williams took a leave of absence from which he never returned, even though he was not indicted.
REANIMATOR. Weill dispatched a series of executives from headquarters to run PFS, but none could match Williams' charisma quotient. Agents deserted in droves. By the time the company finally was stabilized in 1994, the sales force had shrunk to 98,000 from a peak of 190,000 in 1988. To reanimate the listless operation, Weill turned to Plumeri. Explains Weill: "I knew that Joe had a high energy level and was an incredible communicator to audiences of all sizes."
Unlike Williams, Plumeri came to PFS well schooled in the fundamentals of corporate management. He imported former Shearson colleagues to fill a half-dozen key posts and drew heavily from his Wall Street experience in imposing a more demanding training regimen for reps and adopting stricter rules governing sales practices. "PFS now has one of the strongest compliance programs in the industry," says Michael F. Albanese, a vice-president of A.M. Best Co., which rates insurance companies.
Equally important, Plumeri reorganized PFS's sales and marketing around a computer-generated financial plan called the Financial Needs Analysis, which outlines products that might be right for the customer. The FNA is nothing special; many brokers and insurers offer something similar. But the FNA was critical to Plumeri's transformation of PFS in two ways: It aided his compliance crackdown by scripting an agent's early dealings with a client while establishing a conceptual foundation for cross-selling. "Mr. Plumeri put us into the 21st century," says David J. Mosquera, a former mechanical engineer whose PFS income has risen from $4,424 in 1992, his first year as a rep, to $252,261 in 1997.
One thing PFS still doesn't offer is whole life. Unlike Williams, Plumeri does not frame the term vs. whole-life debate in terms of good and evil. How could he, when PFS's sister company, Travelers Life & Annuity, is a top whole-life vendor? To Plumeri, it's an issue of market segmentation, not morality: Travelers sells to the affluent, PFS to the working class. "For the average person, I do think that term is a better deal," Plumeri says.
If PFS is no longer quite the industry pariah that it was in Williams' heyday, it will continue to raise Establishment hackles as long as it keeps replacing whole-life policies with term. "I'm willing to concede that Plumeri is trying to curb some of the excesses, but this is still an organization that lives by the myth that all permanent life policies should be replaced," says Alan Press, a Guardian Life Insurance Co. agent and longtime PFS critic. "In spirit, this is still Art Williams' company."
A BUSINESS WEEK reporter recently attended a PFS recruiting session in the New York City area that began with a 20-minute video of Williams speaking to the National Religious Broadcasters in 1987. "That surprises me," Plumeri says, "but I'd argue that can't be going on at a lot of offices. He founded the company and I give him every ounce of respect for it. But this is a business looking forward now, not a cult of personality living in the past."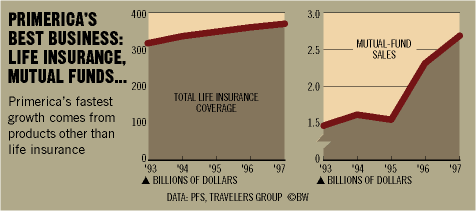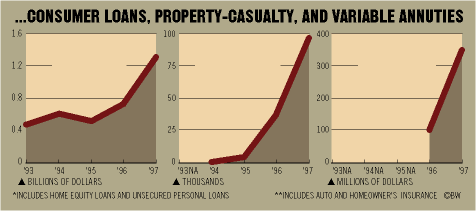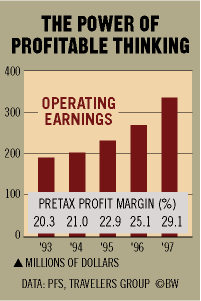 But if the Williams aura is fading, PFS remains a prisoner of the pricing structure he created. To generate sufficient cash to pay a half-dozen levels of commissions on a single sale, PFS must continue to defy the odds by selling commodity goods at premium prices. Although Plumeri's emphasis on financial planning lays the groundwork for a much bigger company, it also is educating its customers to an extent that may undermine PFS in the long run for the simple reason that price tends to matter far more to the well-informed financial consumer than the ignorant one.
But it is Plumeri's nature to accentuate the positive. And why not? He's back in the good graces of Weill and is playing to the biggest crowds of his career. "We have an opportunity to cross-sell as far as the eye can see," he says. No one who knows Plumeri doubts his energy or his drive. The question is whether he can continue to keep his ego and emotions in check now that he is what he's always longed to be: a star.
Before it's here, it's on the Bloomberg Terminal.
LEARN MORE