High Risk In Malaysia
Mahathir has so far avoided basic reform--and the economy shows it
The glittering twin towers of the Kuala Lumpur City Centre are the world's tallest buildings--and monuments to Malaysian Prime Minister Mahathir Mohamad's obsession with making his country rich and powerful. Yet the capital is buzzing with a rumor: Occupancy rates for the towers are so low that the super-rich Sultan of Brunei is buying one of them to bail out the developers.
State oil company Petroliam Nasional, the towers' owner, denies such talk and says it has plenty of cash. Could well be. The point is that in the days of breakneck expansion, such a rumor would never have started. These are uncertain times. Mahathir swears he has a home-grown solution to pull Malaysia Inc. out of the morass of bad debts, foreign exchange losses, and slumping sales created by the crisis. But instead of inspiring confidence, the Mahathir plan is provoking murmurs of doubt. Bailing out all the banks and big companies may be a way to avoid the hard decisions needed to shut down weak institutions and shake up industry. Some skeptics even fear that big bailouts may drive up inflation. If so, Malaysia's workout may resemble Indonesia's more than those of Thailand or South Korea, which are opting for painful reforms in hopes of a quick turnaround.
This is a risky moment for the Malaysian economy. Mahathir has clearly decided to spend heavily to shore up key companies. The government has just concluded a $500 million bailout of Sime Bank and Bank Bumiputra Malaysia, two of the nation's largest financial institutions. Rather than adopt the kinds of stringent reforms mandated by the International Monetary Fund, Mahathir and his advisers are going it alone. Because Malaysia has relatively little foreign debt, it has so far been able to avoid an external bailout.
But internally, defaults on ringgit-denominated debt are surging. Banks and corporations are dangerously exposed to the slumping stock and property markets, which show few signs of a quick recovery. Corporate debt totals more than 170% of gross domestic product--one of the highest levels in the world.
The government is reluctant to force interest rates any higher, lest more companies default. But economists say only higher rates can check inflation and the currency's depreciation. The ringgit could drop another third in value if authorities don't tighten up, warns SBC Warburg Dillon Read economist Simon Ogus. Inflation will probably double this year, to 12%. "The pain is there," says Abdul Rashid Hussein, executive chairman of Rashid Hussein Bank, which is buying Sime Bank.
The pain is shooting through almost every corporate boardroom in Malaysia. Cellular giant Technology Resources Industries has reported a $200 million foreign exchange loss for 1997. Politically prominent conglomerate Malaysian Resources Corp. has delayed its annual meeting as it scrambles to refinance a $250 million bridge loan, even after it benefited from a generous purchase of its cellular unit by Telekom Malaysia.
"WE'RE LIMPING." Tycoon Ananda Krishnan is watching his dreams of becoming a telecom-and-multimedia czar disappear. He has laid off 600 people at telecom company Binariang and satellite broadcaster Astro, and more cuts may be on the way. Market conditions have forced him to postpone an initial public offering, and his satellite unit has just over half the 300,000 subscribers it needs to break even. Now, U.S. telecom operator US West Inc., which owns a 19% stake in the venture, wants to pull out. "All of us are limping," says a senior executive at an affiliated company.
Mahathir thinks IMF-style reforms would just make things worse. Indonesia "took the IMF medicine and the patient died," says Rashid Hussein. By channeling local bank funds to ailing companies, he says, "we can manage it better." Adds Francis Yeoh, managing director of YTL Corp., a specialist in power and infrastructure projects: "The IMF has too frosty a grip. We need a warmer embrace."
Mahathir's paternalism has been the cornerstone of policy: Helping ailing companies will eventually create strong ones. "You must understand the Malaysia Inc. concept," says Yeoh. "If interest rates are 25%, who is going to pay taxes?" Mahathir is now elaborating on that approach. Thus, he's easing restrictions on corporate ownership by the country's economically powerful ethnic Chinese to direct precious capital to struggling Malay entrepreneurs.
The Mahathir strategy typically favors a chosen few, even though the government claims such deals are legitimate transactions. Rashid Hussein Bank's $225 million takeover of Sime Bank rescued shareholders in KUB Malaysia, which is controlled by prominent members of the ruling United Malays National Organization. Mirzan Mahathir, the Prime Minister's son, is selling his heavily indebted shipping empire to state-owned Petronas.
Yet a small but increasingly strident number of people in government and the business community wish Mahathir would institute reforms. They point to South Korea and Thailand as countries whose more democratic systems are helping to develop more transparent economies. Reformers seem to have the ear of Deputy Prime Minister and Finance Minister Anwar Ibrahim, who has complained to visitors of his unhappiness with the lack of reform. "Mahathir should have simply let his son fail," says an UMNO activist. "That would have confounded everyone and distinguished us from Indonesia. We were getting the message out that we were on track, but now what do we tell people?"
Malaysia also has to worry about the impact of Indonesia's woes. Thousands of illegal immigrants have come ashore in boats from the nearby Indonesian island of Sumatra. With more than 2 million immigrants already in the country--most of them Indonesians--Malaysia can ill afford more. "With all our problems, we'd like to send them back. But more are coming," says Daim Zainuddin, an adviser to the Prime Minister.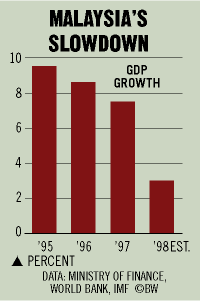 Malaysia's strengths will keep it stable. Oil and gas production provides handsome hard-currency earnings. Prices of palm oil and rubber are high. Its electronics industry, though dominated by multinationals, is booming. Joseph Stiglitz, the World Bank's chief economist, says the economy is "clearly one of the strongest in the region."
But even with these strengths, the evidence of corporate distress increases daily. It's understandable that Mahathir wants to help out his business friends. But the physician turned politician should remember that the alternative to stiff medicine can be a patient who doesn't get better. A good doctor knows when to write out tough prescriptions.
Before it's here, it's on the Bloomberg Terminal.
LEARN MORE