Can Gm Make A U Turn In Europe?
It's launching a new Astra, but more needs to be done
It's not a pretty picture. Since 1994, General Motors Corp. has been losing ground in Europe. Its market share is skidding, and with no turnaround in sight, GM's European executives have been feuding openly. In 1997, GM lost money on the Continent for the first time since 1986--a dramatic change from the early 1990s, when Europe generated most of the company's auto profits. Still, GM thought it had time to clean up its problems.
But with Asia in the dumps, Latin America stumbling, and U.S. sales growth flattening, GM needs a European comeback toute de suite. Officially, GM executives deny rumors of a management shakeup, but sources close to the company say a housecleaning is imminent. Louis R. Hughes, the Zurich-based head of GM's international operations who tried unsuccessfully to unseat David J. Herman, managing director of GM's German subsidiary, Adam Opel, is keeping his job but moving back to the U.S. Herman, a 52-year-old lawyer, will leave Opel in June to oversee GM's push into Russia and the rest of the former Soviet Union. He will be replaced by Gary L. Cowger, currently head of manufacturing for GM Europe.
GOLF CLUBBING? GM brass hopes the changes will get GM Europe back on track. "This will be a turnaround year for us," vows Hughes. But Cowger will be faced with an immediate challenge: completing the launch of a new version of the $14,000 Astra compact, GM's most popular European model. The new Astra is Opel's main hope for beating back archrival Volkswagen, which introduced a new edition of the best-selling Golf six months ago. Because last-minute changes delayed Astra production by six months, it will now be squeezed between the Golf and a new Ford Motor Co. compact replacing the Escort this fall. "GM has quite an uphill battle to fight," says John Lawson, an analyst at Salomon Smith Barney in London.
To make up for lost time, GM is launching three Astra models simultaneously. Carmakers typically begin building one body style to work out bugs. But GM's factory in Bochum, Germany is building five-door hatchbacks and station wagons concurrently. Analysts believe GM, which has had a reputation for poor quality in Europe, may be asking for trouble with the $2.3 billion project. Cowger says staggering the start of the four factories that will build the Astra will prevent glitches.
Even a problem-free Astra won't give GM the quick turnaround it needs. The cost of the launch will hold down earnings in 1998, GM officials admit. Moreover, Opel has lacked the resources to counter VW's new-product offensive. Salomon figures GM's models have been on the market for an average of 4.8 years, vs. VW's 3.6. It may take steep price incentives to move GM's aging models. But even then, says Standard & Poor's DRI, the company will finish 1998 with 11.4% of the western European market, down from 13% in 1995. GM officials say they plan a 50% increase in new products in the next five to seven years.
Meanwhile, to regain its position as Europe's most efficient carmaker, GM has committed $417 million to retool its aging plant in Russelsheim, Germany. Opel officials are fighting for an additional $167 million to raze the old plant and start from scratch. Opel recently signed an agreement with union workers that will allow GM to reduce the Russelsheim workforce by up to 5,000 people.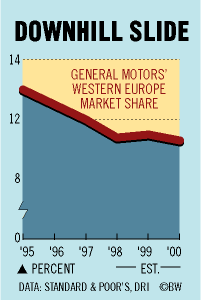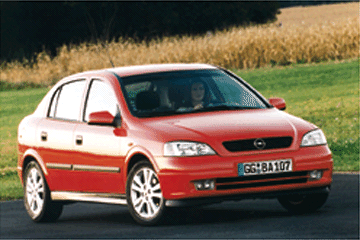 Even as GM builds up in Europe, it is scaling back its pell-mell rush into some Asian markets. A plant under construction in Thailand was cut from 80,000-unit capacity to 40,000, and the start of production there has been pushed back to mid-1999.
That mad rush into emerging markets sapped resources. GM Europe "is overextended, clearly," concedes G. Richard Wagoner Jr., president of GM's North American Operations. Now, Cowger will have to deal with internal as well as external problems to pull off a turnaround at Opel. Insiders say he has struck a conciliatory tone with workers. Hughes, who had hoped to follow Smith into the CEO job, will likely be under close watch by his Detroit colleagues. It may be years before GM regains its former strength in Europe--if it ever does.
Before it's here, it's on the Bloomberg Terminal.
LEARN MORE