Renex Was Born To Be Bought Out
The same management group that founded Home Intensive Care, a provider of home health-care and dialysis services that W.R. Grace bought for $112 million in 1993, has formed Renex (RENX). And when it took Renex public on Oct. 8, 1997, management already planned an exit strategy: It would build up the provider of kidney-dialysis services and--come the right price--sell it.
Analysts say senior officials of Renex, who co-founded Home Intensive Care, openly talk of such a strategy. With the stock now at 5--down from its initial public offering price of 8--management will have to double up efforts to reach critical mass, lest raiders try to buy the company cheap. "Management is focused on stepping up expansion efforts," says one insider, "mindful that the larger players are on the prowl for acquisitions."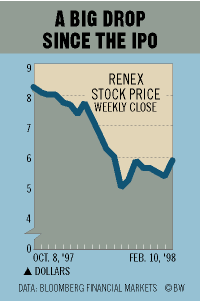 One New York investment manager who has acquired a big stake in Renex figures the stock is worth more than 12 a share, based on a per-patient valuation of $75,000 on its 900 patients. He notes that as more patients sign up and more clinics are acquired, the valuation will increase even more.
Renex' peers trade at values of between $80,000 and $95,000 per patient. Right now, Renex is trading much lower, at about $31,000 per patient, analysts say. "Renex is one of the fastest-growing companies in the dialysis market," notes Bernard Lirola, an analyst at Needham, a New York investment firm. He expects 1998 revenues to jump to $35 million and to $47 million in 1999, vs. an estimated $25 million in 1997. The analyst sees earnings of 10 cents a share this year and 26 cents next.
Before it's here, it's on the Bloomberg Terminal.
LEARN MORE