Pulp Fiction At Kimberly Clark
The papermaker hoped its Scott merger would rev up earnings. That scenario was too rosy
Last February, when Kimberly-Clark Corp. CEO Wayne R. Sanders addressed Wall Street analysts and investors at New York's posh St. Regis Hotel, he brimmed with confidence. Sanders, 50, vowed that the paper and tissue giant would double operating profits per share by 2000. "Prospects have never been as strong as they are today," declared the 23-year Kimberly veteran.
Sanders seemed to have had good reason for optimism: 14 months earlier, in December, 1995, he had engineered the $9.4 billion acquisition of Scott Paper Co. In one step, Kimberly was transformed into the world's largest tissue maker. Sanders was counting on a combination of global growth and synergies from the deal to get him to his goal.
His confidence didn't last long. Over the last year, serious problems have sent profits at the Irving (Tex.)-based maker of Kleenex facial tissues and Huggies diapers down, not up. Operating income fell 4.8% in 1997, to $2 billion, on a sales drop of 4.6%, to $12.5 billion. Now Sanders is taking a second restructuring charge of $810 million to close plants and slash 5,000 more workers, bringing total job cuts since the union to 11,000. "We didn't anticipate this when we did the merger," concedes the much humbled CEO. Last year "was not everything we hoped it would be."
ROCKY HONEYMOON. Certainly, the news hasn't been all bad. Distribution for both Scott and Kimberly-Clark brands is now better, and operating margins are up. Average return on assets has climbed from 14% to more than 18%, in part because Kimberly has cut $680 million in costs. It expects to cut an additional $500 million this year.
Yet the merger was hatched with far greater ambitions in mind. Together with Kimberly's plans to sell off its low-margin pulp plants, it was supposed to earn the company the coveted status--and higher multiples--of a consumer goods giant rather than those of a mundane papermaker. Instead, Kimberly stock, now at 54, has sharply trailed both the Standard & Poor's 500-stock index and archrival Procter & Gamble Co.'s since the merger. "You don't get valued like a P&G or Gillette by disappointing investors," explains William J. O'Connor, portfolio manager for the Marshall Large Cap Growth & Income Fund, a longtime shareholder.
Few predicted that merging the two biggest names in tissue would produce such a rocky honeymoon. Scott had been downsized by "Chainsaw" Albert J. Dunlap in the 20 months prior to the deal. In swallowing its rival, Kimberly bolstered its own money-losing European operations and significantly boosted its share in key markets. In toilet paper alone, Kimberly's cut of the market more than quadrupled.
But before long, problems began to surface. People outside and inside the company agree that Dunlap's notoriously tough turnaround tactics had some impact. But the larger stumbling blocks appeared to be Kimberly-Clark's own lack of experience in putting together a merger of this size. Sharp price drops in Europe and the U.S. hurt too. "Al didn't stick us with anything," says Sanders. "We got exactly what we paid for."
What they got was a company that had been very aggressively managed. In the first combined quarter, Kimberly's results were held down by excess inventory of Scott paper and tissue products, a holdover from Dunlap's relentless push for sales and earnings growth. Executives say Kimberly knew of the excess inventory in advance of the deal but underestimated the problems it would cause. "We probably had more start-up challenges to get through than we realized when we put the merger plan together," admits Thomas J. Falk, group president of Kimberly's North American tissue, pulp, and paper group.
Sanders also had to reverse damage done to the Scott paper towel brand under Dunlap. In an unsuccessful product overhaul, Scott had changed the name and reduced roll sizes. With market share sliding fast, Kimberly reversed the strategy eight months after taking over. The company declines to say how much the effort cost, but market share has not recovered.
Still, by early 1997 the company was well into its $1.4 billion initial restructuring and those problems seemed under control. But as Sanders spoke to the crowd at the St. Regis, others knew there was still plenty to be done. "If there's a venue for criticism [of Kimberly], it would be in the amount of time it took them to take the second restructuring," says Richard R. Nicolosi, Scott's former head of consumer goods. Nicolosi says that it was clear early on that many of Scott's plants were inefficient and would need to be closed.
Sanders concedes that some of the facilities "should have been cut in the first go-around." But he was also slow to recognize several broader problems. One key reason Kimberly wanted the merger, for example, was Scott's leading position in the $12 billion market selling paper products to institutions such as restaurants and hotels. Prior to the deal, Kimberly had only a small stake in that high-margin, high-growth arena.
Most of Scott's senior management team left the unit, however, and distributors say Kimberly fell behind integrating the two. "What you had was the smaller of the two entities trying to run the larger of the two," says Michael Pisa Jr., president of Detroit-based Continental Paper & Supply, a major distributor. "That was a problem."
Kimberly cut back on the deep volume discounts that had been a mainstay at Scott and slashed product offerings. The changes ultimately "led to a lot of confusion" among customers, says David E. Wax, executive vice-president of Waxie Sanitary Supply, another large Kimberly distributor based in San Diego. Although the problems initially affected sales, Kimberly execs say the difficulties have been straightened out and orders are up.
Kimberly also had high hopes for the merger in Europe, where its own $2.5 billion unit was a big money-loser. And certainly the combination with Scott, which boasted far stronger European distribution, has helped. The division returned to the black in 1996.
FLUFFIER. But the gains have been less than Kimberly counted on. Largely because of weak tissue prices, Kimberly's European earnings tumbled 49%, to $84 million, last year. And with the deal, Kimberly also inadvertently strengthened a major private-label rival, Stockholm's Svenska Cellulosa Aktiebolaget (SCA). When the European Commission insisted Kimberly divest some tissue assets to avoid creating a monopoly, management sold SCA a Kleenex plant in Britain. The acquisition gave SCA advance technology that makes tissue fluffier. SCA is now using that technology to better compete against Kimberly and P&G. Although the European tissue market grew 3% in volume last year, analyst Denis Christie of Dresdner Kleinwort Benson figures Kimberly's share fell about 3%. Meanwhile, SCA gained about 6%.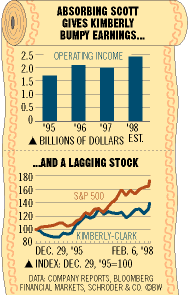 For growth, Kimberly is looking beyond Scott. Sanders is scouting for more acquisitions, smaller deals that Kimberly has a history of integrating smoothly. He's also focused on developing new products, upgrading plants, and expanding distribution of Kimberly's brands. "I'm convinced they're headed in the right direction," says Tony Kreisler, chief investment officer of Basic Value Equity, a Putnam Investments mutual fund that holds Kimberly shares.
With low U.S. tissue prices starting to recover, Sanders says the latest reorganization should bring the earnings target for fiscal year 2000 back within reach. To get there, Sanders knows, "we have our work cut out for us." That's one prediction certain to come true.
Before it's here, it's on the Bloomberg Terminal.
LEARN MORE