Europe: The First Signs Of An Employment Rebound
Is there hope for Europe's jobless? To be sure, structural problems will take years to solve, but both France and Germany are offering some cautiously upbeat reports showing that job markets are starting to improve as recoveries become increasingly driven by domestic demand, not exports.
In December, the French jobless rate dropped to a 22-month low of 12.2% as the number of unemployed fell by a monthly record of 86,800. Moreover, the January jobless total in Germany dropped by 72,000, also a record, cutting the unemployment rate there to 11.6% (chart).
Special factors affected both country's latest results, but the trends are encouraging. The French drop partly reflected temporary hiring during Christmas, and some of the decline could be reversed in January. In fact, offers for jobs lasting longer than one month fell. Still, French joblessness has now declined for four consecutive months amid stronger consumer confidence and firmer domestic demand in services and construction. The latest survey by the national statistics office, INSEE, shows that executives expect consumers to lead rising demand for manufactured goods in coming months.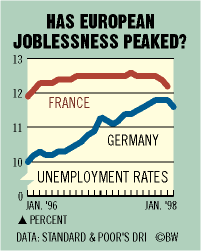 German unemployment always rises in January, but mild weather lifted construction and other outdoor activity more than usual. As in France, the seasonally adjusted decline may be partly reversed in February, but still, the January drop was too large to be explained solely by the weather.
Signs of stronger German domestic demand are less evident than in France. However, German machinery orders are accelerating, suggesting a pickup in capital spending, and consumer fundamentals are increasingly positive. Amid low inflation, real incomes are growing at the fastest pace of the expansion, and consumers are becoming more confident.
Moreover, while government jobs programs on the books for 1998 in both France and Germany do not address crucial structural problems, they will nevertheless add marginally to prospects for job growth this year.
Before it's here, it's on the Bloomberg Terminal.
LEARN MORE