Buyout Shoppers Back At Ruddick?
Consolidation has been all the rage in the supermarket business. And Ruddick (RDK) seemed a likely target. It operates the Harris Teeter chain in five Southeastern states. Speculation in late October about a possible buyout sent the stock up from 15 to more than 20 in early December. But when the whispers dried up with no deal, the stock headed south, to 17. Now, some big investors are buying again: They believe that, with the likes of Safeway and Dutch food giant Ahold on the prowl, Ruddick soon will be in play. Safeway operates 1,370 stores in the U.S. and Canada, and Ahold owns such chains as Stop & Shop, Bi-Lo, and Finast.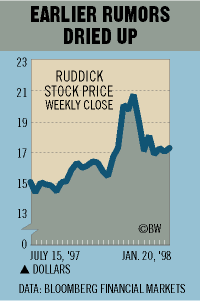 An extra attraction at Ruddick: It has another profitable division--American & Efird, which makes industrial sewing thread. Some Ruddick watchers figure that Harris Teeter alone (with 138 supermarkets) is worth 20 a share and the thread unit 7. So at its current price of 17, the supermarkets are selling at a discount--and American & Efird is a giveaway. Ruddick, expected to post earnings of 85 cents a share in 1997, should earn $1.15 in 1998 and $1.30 in 1999, figures analyst Ken Gassman Jr. of investment firm Davenport.
Some investors tracking the company believe that Ruddick got an informal approach but couldn't agree on a price. "It looks quite logical that it should attract a buyer before long," says one California money manager, who has been accumulating shares. Ruddick spokeswoman Katharine Kenny declined comment.
Before it's here, it's on the Bloomberg Terminal.
LEARN MORE