U.S.: Why This Expansion Could Steam Past Asian Shoals
It's gaining power from low rates and a strong labor market
As the expansion steams toward its seven-year anniversary, some pundits are using words like "unstoppable" and "unsinkable." But will Asia prove to be the iceberg that rips a hole in this economic Titanic? The turmoil in the Asian financial markets is just a tip covering deeper regional troubles, including imploding banking systems, corruption, and potential social unrest. Correcting those problems will take time.
Despite this new uncertainty, the U.S. economy still looks watertight. If anything, the chaos is pushing down interest rates, partly reflecting a flight to safe U.S. Treasury securities. The drop is causing a new round of mortgage refinancings that is adding several knots to the economy's already rapid speed. This momentum was evident in the latest reports on jobs and retail sales. Those data point to booming domestic demand that has given the manufacturing sector a full head of steam (chart), even as export demand slows.
Right now, the key danger from Asia is a possible severe pullback in the U.S. stock market caused by growing worries about profits. That's because the hit from Asia to overseas earnings will come just as profit margins will face domestic pressures from rising labor costs. A correction in stock prices might derail some business investments and rattle confidence among consumers who have known only a bull market.
THE DECEMBER JOB DATA highlighted the economy's seemingly irrepressible strength as well as worries about the coming squeeze on profits: Vigorous demand for workers is lifting wages.
Nonfarm payrolls jumped an unexpectedly large 370,000 last month, and both October and November gains were revised higher. Businesses added an average of 358,000 workers a month in the fourth quarter, the fastest hiring pace in 3 1/2 years. Total hours worked grew at an annual rate of 4.4% last quarter, a good indicator that real gross domestic product continued to expand at an annual rate greater than 3%.
Hiring was especially robust among manufacturers. Jobs grew by 39,000 in December. And for the quarter, factories added an average of 42,000 jobs a month. That three-month rate surpassed the boomlet of 1994, becoming the strongest factory-job pace in 10 years.
And those workers were extremely busy. The factory workweek lengthened by 12 minutes, to 42.3 hours--the longest on record. More jobs and longer hours mean that factory output last quarter easily grew faster than the third quarter's 6.3% gain. Moreover, the longer workweek suggests continued momentum in manufacturing hiring in the new year.
In the service sector, private industries added 259,000 new jobs, led by an 81,000 gain in business services. The Labor Dept. confirmed that high tech is where the jobs are. It said that computer services, which employ about 1% of all workers, accounted for 5% of the 3.2 million jobs created in 1997.
Labor also said that a record 64.1% of the population was employed in December. And with job growth surpassing hikes in the labor force, the unemployment rate is sure to drop further in early 1998 from December's already low rate of 4.7%.
THE DEMAND FOR WORKERS is boosting pay. Hourly wages for all production workers rose only a penny in December, to $12.48, but that followed a large 7 cents rise in November. For the quarter, average hourly wages grew at a 5% annual rate from the third quarter, the biggest quarterly gain in 14 years. Pay in both manufacturing and services saw huge increases. After adjusting for inflation, real wages rose 2.1% from a year ago, the largest yearly increase since 1976 (chart).
Fatter pay raises, coupled with reports of bigger premiums for health insurance, mean that businesses are spending more for labor. The fourth-quarter employment-cost index, due out on Jan. 27, should detail which industries are facing the tightest labor-cost squeeze. And the jump in total hours worked last quarter suggests that productivity fell, implying that efficiency gains in the past year have not been sufficient to offset labor's higher price tag. The likely casualty in that imbalance is profit margins.
At the same time, though, rising incomes in the U.S. explain why domestic demand remains a juggernaut. Consumers ended 1997 with a flourish, boosting retail sales by 0.7% in December. The advance indicates that real consumer spending for goods and services rose at an annual rate of about 3% last quarter--not bad following a 5.6% surge in the third quarter. Bigger paychecks, along with a windfall of refi money, suggest that spending will rise this quarter as well.
Car dealers did extremely well in December. Unit sales of new cars and light trucks jumped to an annual rate of 16 million, the best for the year (chart). However, there is speculation that dealers included some of their early-January sales in the December number because New Year's Day delayed reporting. If so, then this month's sales rate may look weak.
That may not be the case, though, if homeowners use the extra cash from mortgage refinancings to purchase durable goods, including motor vehicles. The volume of refis jumped 30% in the last week of December, says the Mortgage Bankers Assn. And with 30-year mortgages now below 7%, mortgage refinancings should increase further.
CHEAPER LONG-TERM RATES are only one consequence of the Asian crisis. Another upshot is continued low inflation as Asian imports fall in price.
The consumer price index for all goods and services rose just 0.1% in December. That means the CPI rose 1.7% for all of 1997--the lowest inflation rate since the oil-price collapse of 1986. Excluding food and energy, core prices inched up 0.2% last month and 2.2% for 1997. That's the lowest rate in 32 years.
Core service prices rose 3% last year, compared with 3.3% in 1996. Goods inflation slowed more dramatically. Prices for core goods were up only 0.4% in 1997, much lower than the 1.1% pace in 1996.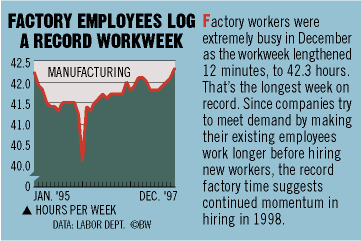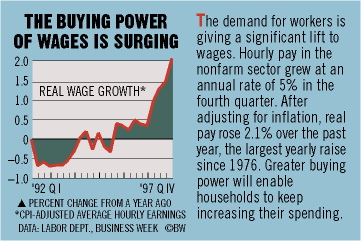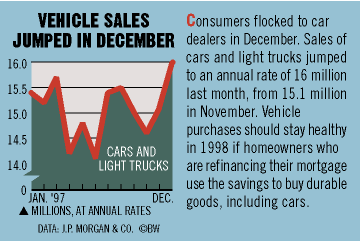 Looking ahead, prices for goods will probably be flat at least for the early part of this year because of cheaper Asian imports. Import prices are already in a steep decline. In December, prices of nonoil imports fell 0.2%. For the year, they dropped a stunning 2.5%, and they are down 4.5% since mid 1995. The places to watch for any inflation pickup are medical care and housing, which are nearly half of the CPI.
To be sure, the impact of the Asian crisis will not be negligible, but it is hitting at the very time when this expansion is at its strongest. Low inflation and bigger pay gains are boosting consumer buying power with a force not seen before in this expansion. And solid domestic demand will fuel further gains in both jobs and industrial output. This expansion may not be invincible, but Asian woes are highly unlikely to sink it.
Before it's here, it's on the Bloomberg Terminal.
LEARN MORE