The Post Office Delivers A Banner Year
But finding more savings--and fending off rivals--will be tough
Postmaster General Marvin T. Run-yon had plenty to celebrate as he closed the books on 1997. The U.S. Postal Service recorded a $1 billion-plus profit for the third straight year. Thanks in part to last summer's United Parcel Service Inc. strike, the post office's package business jumped 15% and revenues rose 3.2%, to $58 billion in the fiscal year ended Sept. 30. Now, the service's chief rivals, Federal Express Corp. and UPS, are planning rate hikes that could make them less competitive.
Runyon and his executives, however, don't have time for self-congratulations. The Postal Service projects a $228 million shortfall for fiscal 1998--the result of its decision to put off a 1 cents hike in first-class rates until summer 1998. What's more, Runyon, who pared debt from $10 billion to $6 billion, is going back to the bank--the Treasury Dept., that is--to borrow $1.7 billion for equipment, such as automated mail sorters, and for money to improve customer service programs. He also must continue to find ways to compete with E-mail and faxes, which are cutting into the service's first-class mail business, which generates 57% of its revenue. "It could be a tough year," admits Chief Financial Officer Michael J. Riley.
Until now, Runyon, 73, has been on a winning streak. When the former auto executive became postal chief in May, 1992, he inherited an agency that was raising rates as much as 15% every two to three years--and still operating in the red. He has cut costs, in part by eliminating 23,000 administrative positions. He also improved delivery times and instituted new marketing campaigns. The result: Costs are down, mail volume was up roughly 1.1% in 1997, and rate increases are smaller and less frequent. Now, some big shippers are giving the service new business.Nordstrom is sending out 90% of its catalogs via the Postal Service, up from 10% before the UPS strike. "They worked hard to get and keep our business," says Victoria Dellinger, general manager of the catalog division.
Looking ahead, though, Runyon will have a hard time finding more savings. Labor costs account for 77% of the service's budget, compared with roughly 60% at rival UPS, and postal unions are already warning Runyon not to expect big concessions when they come to the bargaining table beginning in August. Runyon has floated the idea of a wage increase of 1% under the rate of inflation. But angry union officials say Runyon has not shared any of the service's profits with the rank and file. "It's the old story, caviar for the chiefs," says American Postal Workers Union President Moe Biller. His union is also trying to combat Run-yon's efforts to outsource work, such as equipment repair, to nonunion employees.
The prospects for raising the service's top line are also clouded. Runyon believes package deliveries will be up 5% to 15% for 1998 if he holds onto the customers lured away from UPS. But parcels and priority mail account for only 28% of postal revenue, and competitors are fighting back: UPS has launched a new ad campaign and boosted its sales force, and FedEx is spending $2.5 billion to purchase four planes and build a new hub in Fort Worth.
"ELECTRONIC STAMP." Moreover, gains in the package market won't make up for anticipated losses in first-class mail. In the last five years, Runyon estimates that the postal service has lost about 35% of its business-to-business first-class mail, or $6 billion in revenues, to E-mail, teleconferencing, and faxing.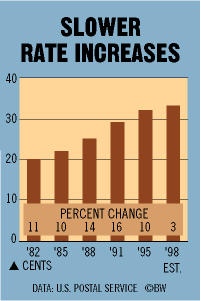 To get a piece of the electronic action, Runyon is working on "electronic stamp" software that would guarantee that electronic correspondence sent through the post office's Web server arrives unopened and unaltered. Also proposed is a 30 cents bar-coded envelope that cuts the cost of sorting and a printing plan that would let advertisers send ad copy to the Postal Service electronically, which the agency would then convert to paper for mass mailings.
It's a start. But given the challenges the postal service still faces, Runyon has a ways to go before he can promise that the turnaround is in the mail.
Before it's here, it's on the Bloomberg Terminal.
LEARN MORE