Microsoft And Hotmail: `It's About Capturing Eyeballs'
The real aim of this buyout is E-commerce
In the end, the offer was just too good to refuse. After two months of protracted courtship, startup Hotmail Corp., the largest provider of free E-mail service on the Internet, gave in to Microsoft Corp.'s repeated entreaties and agreed on the last day of 1997 to be swallowed up for an estimated price of $385 million. Hotmail will become a subsidiary of Microsoft--and its 10 million subscribers will come under the umbrella of Microsoft Network (MSN). The rationale for the pricey buyout deal couldn't be simpler: "Free E-mail has become a necessity," says MSN Vice-President Laura Jennings.
Why is freemail so red hot? In a word: competition. To drag in customers, Web companies feel compelled to offer a smorgasbord of services--from chat rooms to personal Web pages. Outfits such as MSN, Yahoo!, and Excite! find they have to try to match online giant America Online. "Everybody's trying to cobble together pieces to become a viable competitor," says Barry Schuler, AOL's president for creative development.
NO FEES TO PAY. The most basic service is E-mail. "E-mail has proved to be the killer application of the Internet," says Rex Golding, co-head of technology banking at Morgan Stanley, Dean Witter, Discover & Co. Some 42 million American adults use it today, sending billions of messages every year. And, increasingly, cybersurfers are demanding services such as Hotmail. Dubbed freemail--because it's supported by advertising instead of user fees--these setups let subscribers send and retrieve their messages from anywhere using any Web browser.
Microsoft wanted Hotmail badly. So much, in fact, that when venture capitalist Tim Draper, one of the startup's backers and directors, spurned Microsoft's original offer, the software giant came back with a sweetened deal. Nobody is willing to say just how much the offer was raised, but "Microsoft had to buy the leader," gloats Draper. As a result, more than one-quarter of Hotmail's 60 employees became instant paper millionaires.
In the freemail business, Hotmail was definitely the standout. Over the period of just 15 months, the Sunnyvale (Calif.) company zoomed from nothing to nearly 10 million subscribers--about the same number that AOL has enlisted after 13 years in the business. Hotmail's proposition: Consumers get enhanced E-mail for free in exchange for filling out a personal questionnaire and putting up with ads. In December, that made Hotmail the No.12 most visited Web site, according to researcher RelevantKnowledge.
"A COUP." Microsoft saw those numbers and drooled. Despite a series of new strategies, its MSN service has enlisted only 2 million paying customers. MSN's Web site ranked No.9 in overall visits in December--far below Yahoo!, Excite!, and Netscape Communications. Adding Hotmail could draw in 2 million additional visitors per month, based on estimates from researcher Cyber Dialogue Inc. That would let Microsoft charge more for ads on MSN. "It's about capturing eyeballs," says Alan M. Braverman, an analyst at Credit Suisse First Boston. "Hotmail is a coup for Microsoft at any price."
The promise of the deal goes beyond Hotmail's current customers and any near-term revenues. After all, Hotmail booked less than $4 million in sales last year, sources say, despite its huge customer base. The bonanza will come from selling over the Net. The data gathered from Hotmail's questionnaires let advertisers target likely buyers.
The deal isn't without some risk. At Excite!, which began offering free E-mail 6 months ago, "it's highly debatable whether it has driven additional traffic," says Chief Executive George Bell. Still, he concedes, if Microsoft succeeds in generating traffic with Hotmail, "that'll cause all of us some heartburn."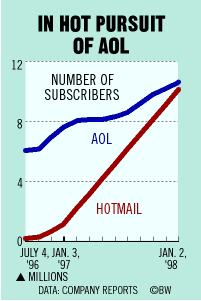 The Hotmail deal also leaves the few remaining startup "freemailers" looking for partners. "Once Microsoft has made its move, it becomes nearly impossible for them to remain independent," says Douglas C. Carlisle, general partner at Menlo Ventures, one of the companies that backed Hotmail. Rival RocketMail sold out to Yahoo! in October.
What happens to Hotmail, after it becomes part of the Microsoft empire? Former CEO Sabeer Bhatia, staying on to work for Microsoft, says he aims to meld MSN and Hotmail into a full-fledged AOL rival. "We can offer our subscribers music, books, software, flowers, and investment advice," he says. And deliver the mail, too, please.
Before it's here, it's on the Bloomberg Terminal.
LEARN MORE