How Sierra May Catch A Cold
Despite the ills afflicting many health-maintenance organizations, Sierra Health Services (SIE) has held up nicely: Trading at 34, its stock is in spitting distance of its 52-week high of 40. Other HMOs are closer to their lows. One reason: Five of the eight analysts who follow Sierra are upbeat on it. The rest rate it "neutral." Sierra is the largest managed-care company in Nevada, and has expanded into Texas. Lori Price of CIBC Oppenheimer put a target of 45 to 48 on Sierra when it was at 36. But some investors are betting the other way: One New York hedge-fund manager sees Sierra sinking to 25 this year.
What's their beef? They think that Sierra will miss the Street's consensus fourth-quarter estimate of 64 cents a share. "Earnings will come at the low end of the estimates--61 cents at best," says this money manager, who specializes in shorting "vulnerable" stocks. Consensus estimate for all of 1997 is $2.40.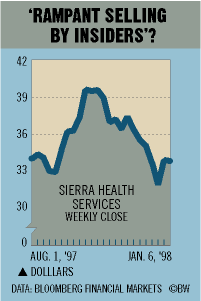 What worries this pro is "rampant selling by insiders," including Chairman Anthony Marlon, President Erin MacDonald, Treasurer James Starr and Vice-Presidents William Godfrey and Frank Collins. "Heavy selling by top executives and lagging fundamentals can only spell trouble," he says. "With costs rising and membership declining, Sierra faces earnings woes." Sierra spokeswoman Ria Carlson disagrees: "Membership is on the rise, jumping 20% in the third quarter. And we're comfortable with analysts' estimates." She adds: "Sierra is known in the industry for holding costs down better than our peers."
Before it's here, it's on the Bloomberg Terminal.
LEARN MORE