U.S.: Is It Time For The Market To Do A Double Take?
Profits are at risk--from labor costs, the Fed, and Asia
Is Wall Street in denial? On any scale, the November employment report was a bombshell, especially coming on the heels of a surprisingly strong October report. Payrolls surged by 404,000 last month, twice what the markets had expected. The jobless rate dipped to 4.6%, a 24-year low, and wages accelerated sharply. In fact, recent labor market trends give the appearance of an economy that is actually speeding up, not slowing down as the markets want to see.
So why has all this escaped the stock market's attention? Because investors are betting that a chill wind from Asia will cool off this superheated economy and relieve inflationary pressures that could surface in 1998, thus obviating the need for the Federal Reserve to step in and do the deed. The markets see only the blissful combination of low inflation, no hikes in interest rates, and continued growth in profits.
However, Wall Street might be overlooking something. Any impact from Asia's financial crises on demand for U.S. exports and on inflation will hit mainly in the economy's goods-producing sector. Since early 1996, a sharp drop in goods inflation, reflecting a stronger dollar and falling import prices, has accounted for almost all of the drop in core consumer inflation, less energy and food. And thanks to Asia, that trend will continue.
But for 1998, the job data show that the service-producing sector, which is 53% of the economy and largely immune to foreign competition, is the place to watch for building wage and price pressures (chart). Led by services, hourly pay in the fourth quarter is on a pace to rise at an annual rate of about 5% from the third quarter, the fastest quarterly pace since 1983, and productivity this quarter is set to decline. Going into 1998, the labor markets will only tighten further, and industries that cannot raise prices will face a cost squeeze that could mash profit margins.
THE NOVEMBER EMPLOYMENT REPORT spotlighted these concerns. First of all, the key news in last month's job data was that amid ever-tighter labor markets, wage growth is speeding up to a pace that should start to attract the attention of the markets and Fed policymakers, regardless of any fallout from Asia. Average hourly earnings of production workers rose 0.6% in November from October, putting them 4.1% ahead of a year ago, the fastest pace since 1989.
Pay in the service sector, where three-fourths of all private sector workers are employed, is up 4.5% from a year ago, also the fastest 12-month clip since 1989, and the pace has been accelerating in recent months. Also, the speedup has been broad. In the past year, wages in transportation and public utilities are up 3.7%, more than twice the pace of a year ago. Pay in retailing has risen 4.4%, while earnings in both the wholesale trade and finance sectors are up 5% each.
The problem is that productivity growth will not likely be sufficient to prevent a pickup in unit labor costs. The job data show efficiency gains are waning after strong showings in the second and third quarters. That's because hours worked are growing at an annual rate of about 5% this quarter. It would take an unlikely 5% jump in economic growth just to keep productivity from falling. Earlier big gains in productivity partly reflected this year's output surge, which came as companies were not adequately staffed to meet surprisingly strong demand. Now, they are making up for it by fattening payrolls.
AT THE SAME TIME, further wage acceleration in 1998 is already baked in the cake. For one thing, the jobless rate is set to dip even lower. At this year's growth rates of employment and the labor force, joblessness will drop below 4.5% in the first quarter of 1998.
That's especially true, given that growth in the labor force is slowing. Annual labor-force growth had surged from 0.4% at the end of 1995 to 2% by yearend 1996, an unsustainable pace far faster than growth in the adult population. That trend kept the unemployment rate from falling faster in 1996 than it did, even amid that year's strong job growth. Now, more of the population is at work than at any time on record (chart). So the expansion in the labor force is limited by available workers, even as job growth remains strong. As a result, the jobless rate is falling much faster.
More important, unemployment is now clearly below nearly all estimates of the economy's "full employment" rate. That level is generally pegged anywhere from 5% to 6%. A jobless rate below that point means that labor demand is outstripping supply, which is why wage growth has sped up noticeably. In fact, wages will continue to grow at an ever-accelerating pace until the excess demand in the labor markets is eliminated. That means the economy will have to slow sharply enough to lift the unemployment rate.
BUT AS THE JOB DATA SHOW, a slowdown that steep is not on the horizon anytime soon. In fact, the labor markets suggest that economic growth is accelerating. Payroll gains have averaged 285,000 per month since July, up from 233,000 per month in the first half. In the past three months, the average increase is 330,000, the fastest in three years (chart).
The November job rise was also broad. Retailers added 105,000, the most since early 1995, suggesting that stores have great holiday expectations. Construction, up 29,000, posted the largest gain since May, as builders responded to strong home demand. Manufacturers added 44,000 jobs on top of 38,000 in October, for the largest two-month advance since 1990.
The November gain in factory jobs, plus a longer factory workweek and more overtime hours, means that industrial production will post another solid gain when the November data are released on Dec. 15. Manufacturing production is rising nearly twice as fast in the second half as it did in the first half.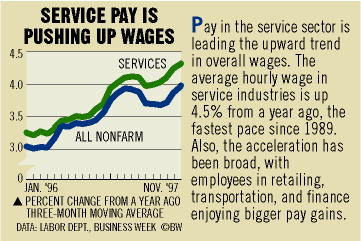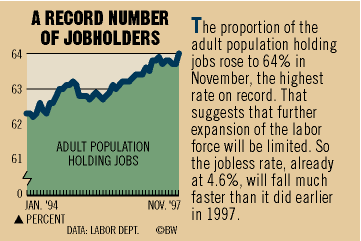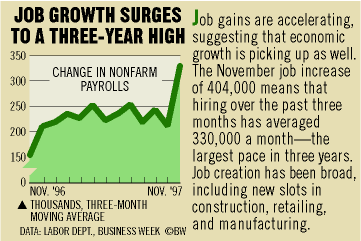 What's more, the latest additions to jobs and incomes are fueling more demand, especially by consumers. Real consumer spending is on a pace to grow at about a 3% annual rate this quarter, a strong advance coming after last quarter's 5.8% surge, which was the largest gain in 5 1/2 years. Add in historic highs in confidence and financial conditions that are more stimulative now than they were at the beginning of the year--including higher stock prices and bond yields near 6%--and it's easy to see why households are ready to keep the economy rocking into 1998.
If domestic demand doesn't cool off soon, the Fed will chill it. That's one reason why the outlook for profits next year appears less bright than the expectations that are currently built into stock prices. Also, if Asian fallout doesn't hit the bottom lines of U.S. multinationals, then higher labor costs will. Any way you slice it, profits are starting to look like the fall guy for 1998, and the stock market is oblivious.
Before it's here, it's on the Bloomberg Terminal.
LEARN MORE