A Goldbug Bites Into Real Estate
Peter Munk is getting rich as office space gets tight
As recently as last year, few investors took Peter Munk's plays in real estate seriously. The Canadian mogul had made a fortune building North America's most profitable gold mining company, Barrick Gold Corp. But his grand visions for TrizecHahn Corp., the real estate company he salvaged from bankruptcy, seemed just another developer's pipe dream. TrizecHahn's stock languished around $13 a share. "We were considered to be totally crazy," he says.
Now, however, Munk has inked an $844 million deal to buy the Sears Tower in Chicago, capping a frenetic year in which he snapped up more than $1.8 billion of real estate across North America and Europe. And nobody is dismissing this dapper 69-year-old entrepreneur's real estate ventures anymore. TrizecHahn's stock is nearly $25, and the company's capitalization, including debt, tops $7 billion.
TIME TO REAP. Munk is sitting pretty because he got in ahead of many real estate hotshots over the past three years. Figuring that the go-go economy and low level of new building meant an eventual upturn, he took control of Trizec and its $4 billion of office space and shopping malls for just $500 million in 1994. Since that time, he has acquired scads of office space, including, for example, 25% of the best property in downtown Houston. Now, with rents climbing, TrizecHahn is reaping its rewards. Houston's occupancy rate in premium downtown buildings is a healthy 92%, and rents are roughly $18 a square foot, up from around $14 in November, 1996.
Munk's approach has been to find downtown properties where space needs will grow and rents can be pushed higher. He paid $210 million in February for a 49.9% stake in Manhattan's 98%-occupied, 1.4 million-square-foot Grace Building and other nearby properties. Rentals in the area, which were then hovering around $25 a square foot, are now approaching $40. Munk is "running hard and fast. So is the market," says Philip Reichmann, chief of O&Y Properties Corp., whose family once controlled Trizec. Jonathan L. Mechanic, a real estate lawyer at Fried, Frank, Harris, Shriver & Jacobson, says Munk's people are well known as shrewd operators. "They are perceived as aggressive and sophisticated."
In that, they resemble their boss. The Hungarian-born entrepreneur came to North America in 1948 with just $350 to attend the University of Toronto, and made his first fortune with a hi-fi company in the 1960s. He later built and sold a successful hotel chain before moving into oil and gold.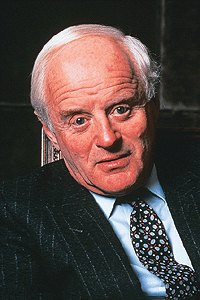 With real estate prices rising, the acquisition window may soon close. So Munk's development team will begin building in the next few months. First up: an 800,000-sq.-ft. tower in Calgary and a more than 1 million-sq.-ft. complex in downtown Toronto. Munk is also planning retail-entertainment complexes in Las Vegas, at the base of Toronto's landmark CN Tower, and on Hollywood Boulevard in Los Angeles, where he is negotiating to host the Oscars.
There are a few clouds on Munk's horizon. With gold below $300 an ounce, Barrick's stock has plummeted. And with TrizecHahn's 15.7% stake in Barrick, investors aren't giving its shares as lofty a valuation as those of other developers. But it would be risky to bet against Munk right now. At least in real estate, his touch so far has been downright golden.
Before it's here, it's on the Bloomberg Terminal.
LEARN MORE